We've failed our citizens
Hang on for a minute...we're trying to find some more stories you might like.
It seems like every time we turn on the news, another human life has been taken, another family must cope with the loss of their loved one, ripped from the world at the merciless hands of a gun.
Some deny that America has a problem with gun violence, others blame gun violence on mental illness instead of lack of regulation, and mainstream media glorifies violence and death.  This combination has proved itself, time and time again, to be deadly.
Yes, Americans have 2nd Amendment rights which guarantees the right to bear arms, but we can no longer look to blame others for the American murder rate.  The availability of guns must be restricted.
The National Rifle Association (NRA) exerts great influence over American politics through their collective voting and lobby. They have, according to President Wayne LaPierre as of January 2013, over 5 million active members, although this number has been disputed. These alleged 5 million members are determined to be able to keep their firearms without any kind of restriction, however minor.
According to the Washington Post, the NRA has donated $3,781,803 to members of Congress.  According to the same article, 44 out of 100 senators currently in office and 249 out of 435 House representatives have received donations. In addition, 44 out of 50 states are represented by public servants who have received donations from the NRA (Washington Post, 2016). These representatives have helped strike down any kind of gun control measures proposed by House Democrats and the Obama administration.
Gun rights advocates are right on a point; they are allowed to bear arms, the problem is that the second amendment was written, at a time in our history when we did not have police, and we needed guns for personal protection against animals and foreign invasion (British). It was written before AK-47's, and semi -automatic and automatic weapons. It is 2017. If we need meat, we go to the grocery store. We need protection, we call 911.
But, the NRA insists that the only way to stop a "bad guy with a gun" is a "good guy with a gun". While armed civilians have stopped attacks, it is statistically rare. And, if these "good guys with a gun" are not adequately trained in emergency active shooter situations, they can simply fan the flames of violence, and cause more chaos.
It often seems like the only times we have a serious debate about implementing gun control is when something major happens. Sandy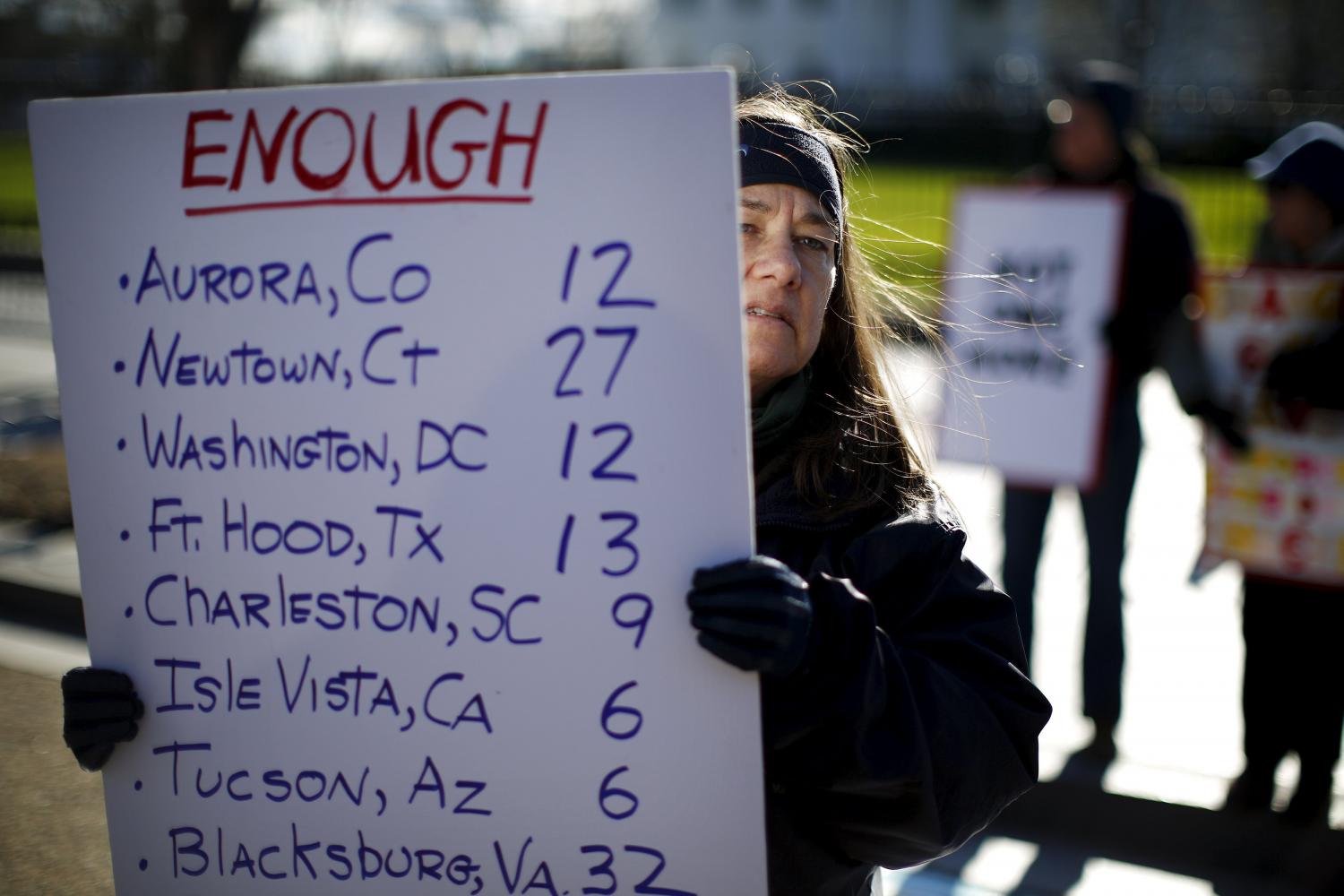 Hook, Aurora, Baton Rouge, Charleston. When horrific things become part of the news cycle, we talk. But we don't talk for long. We'll discuss the topic for a week, a month, maybe two. Politicians will strike down even small measures of preventing tragedies from happening again, and people will be outraged, then we stop. We mourn for the victims, but not enough to do any real change.
When we ignore something so prevalent and dangerous in our society; we put society's most valuable and precious treasures, our children, in harm's way. Some would argue that school shootings are rare. Yes, the likelihood of a school shooting is rare; however, the Columbine High School massacre in 1999 left a macabre scene of 13 dead, including one teacher and twelve students. Since 1999, there have been shootings at 164 schools. That's more than an average of 9 schools a year that have had shootings. Nine schools a year that will forever be marked by violence.
Shootings at 164 schools have left over 135,000 children affected by violence in what is supposed to be a safe space to learn and grow. They will never be the same again. In Greenville, North Carolina, there was a shooting, and a child died, surrounded by his classmates. He was seven. Gun control is made out to be a political issue, when it should be a humanitarian crisis. Creating laws to protect innocent people shouldn't pit Republicans against Democrats; it shouldn't matter of conservatives versus liberals. There shouldn't be antagonistic at all; people should work together to make America safer.
NBC News
Other countries have succeeded what American has failed. Australia passed sweeping gun control laws after the Port MacArthur Massacre in 1996, and because of it, gun violence has drastically decreased. Meanwhile, we Americans are 25 times more likely to die of a gun that citizens in other developed nations. To say we need to ban all guns would be a paradox to the essence of the Constitution, but those who argue for no limits whatsoever on gun ownership devolves into madness.
In the meanwhile, people die and are injured.  Communities and families are torn apart, nothing changes. Seven people died in Chicago last weekend. And yet we argue on.
Total Views: 1028 ,