SHS opens AP resource room
With District 211's push to enroll more students in Advanced Placement courses, Schaumburg High School designed a workspace for AP students to work and receive support.
The AP resource room, located in the northwest corner of the media center behind the iTech desk, was created to give AP students a safe and relaxing space to get their work done or take a breather during their hectic school day. Most importantly, it also gives Advanced Placement students a chance to find study groups, collaborate with each other on projects, and get tutoring from one of 14 SHS student tutors.
The resource room is open from 7am to 3pm. AP students can utilize the room during their free periods, lunch hours, and study hall. All they need to do when they get to room 259 is sign in and show the teacher on duty the AP sticker on their IDs.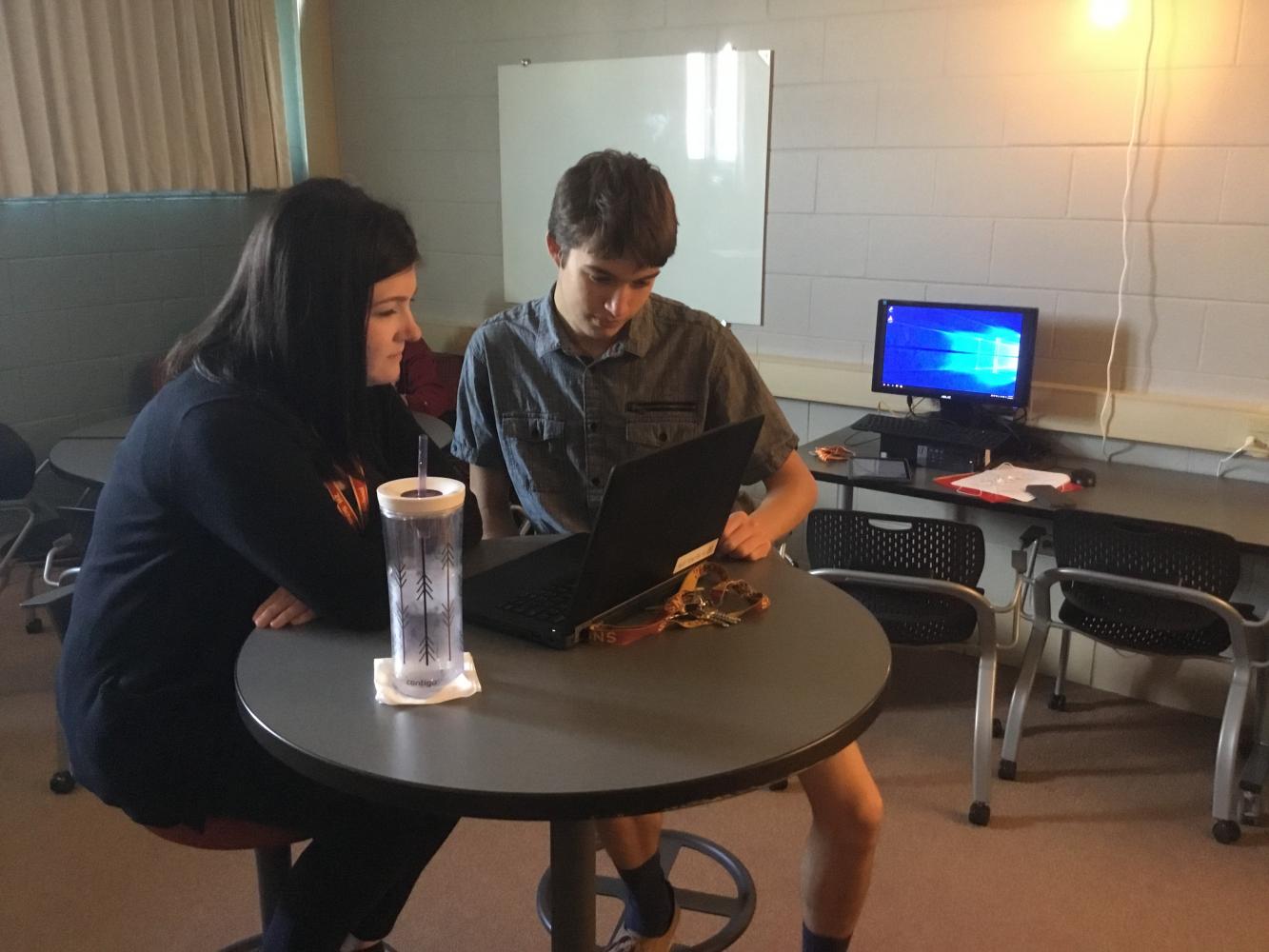 "I think it's really beneficial for AP students," sophomore Lauren Christians said. "It's a great place to go for help."
Staffed by Ms. Boland and Mrs. Casamassimo, the room employs student tutoring in AP US History, AP Language and Literature Composition, AP Psychology, AP Biology, AP Calculus, AP Physics, AP Computer Science, AP Human Geography, and AP Spanish. There's also additional tutoring options through a networking system created by Ms. Boland.
"Needing to use your classmates and your peers as resources and creating study groups outside the classroom is a skill that you have to learn." said Ms. Boland. That's the purpose and idea behind her "Rising Star" board. "Find someone who's going in the right direction, hang onto them, and have them help you."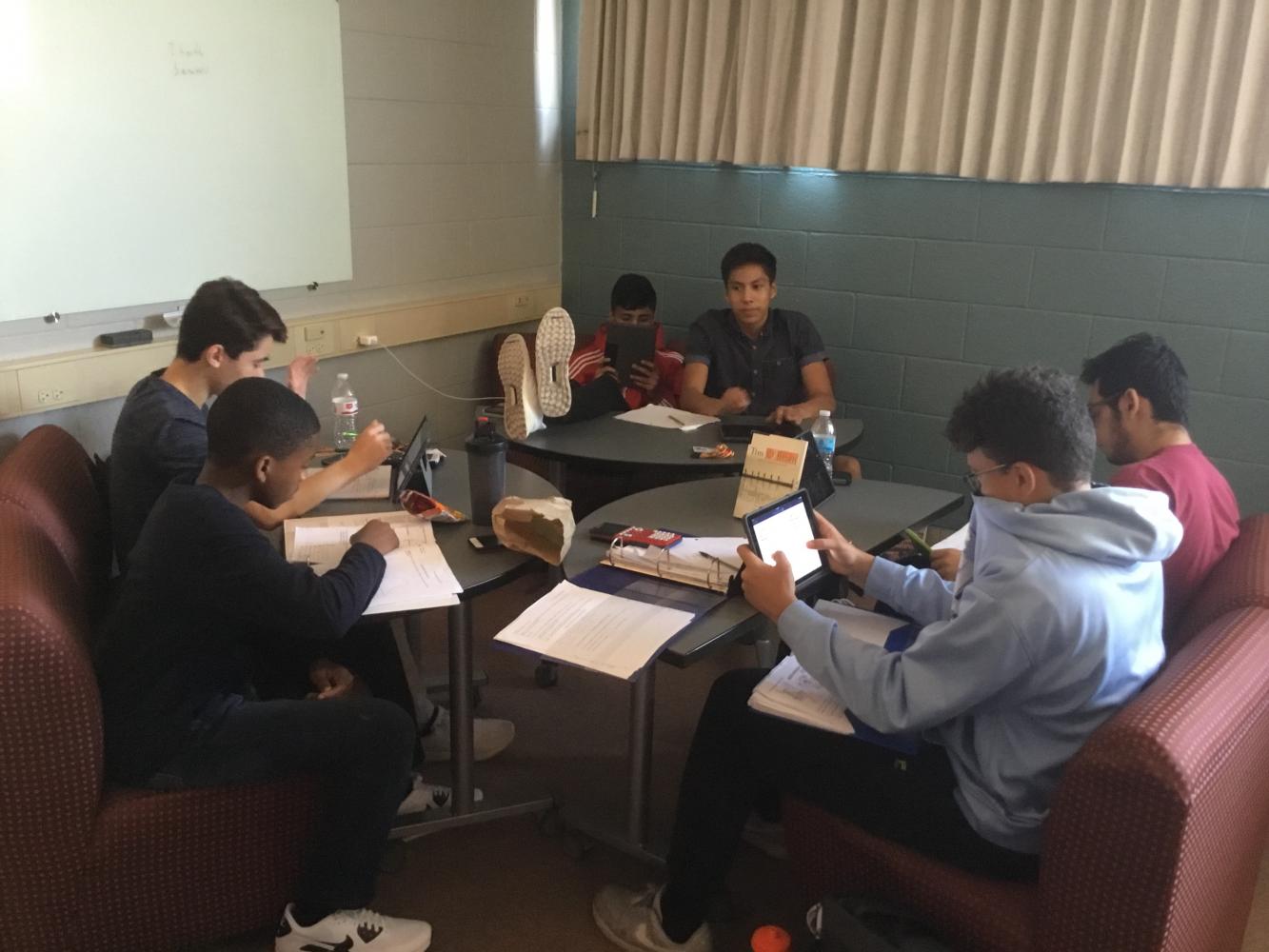 There is another card for students who are looking for help or study groups. All in all, the board is a way for students who don't qualify to be an "official" tutor to help others who seek extra help.
Besides student tutors, the AP resource room offers a number of other resources. For one, it is a room where students and teachers can arrange to meet. There also is an AP room Schoology page, along with computers, textbooks, AP exam study guides, couches, coffee, a study nook and other basic school supplies. As more students use the room and give feedback, more resources will be added.
Ms. Boland and Mrs. Casamassimo are already in the process of collecting various brain games like chess and sudoku puzzles. They are also looking into ways for seniors to complete their Share Hours in the AP Resource Room. The teachers are also thinking about extending the hours that the room is in operation.
"This room is going to be based off of whatever students want it to be," said Mrs. Casamassimo. "What I envision is just a space where students in AP courses can really just support each other and find support in each other."
As the year goes by, surveys will be given to AP students to give them a chance to share their opinions. As results come in, the room will change. It is a room made for students, used by students and transformed by students. So stop in, grab a table, and utilize the room and its resources as much as you need to. Mrs. Casamassimo and Ms. Boland look forward to seeing you there.
Total Views: 3584 ,