Poised for a playoff run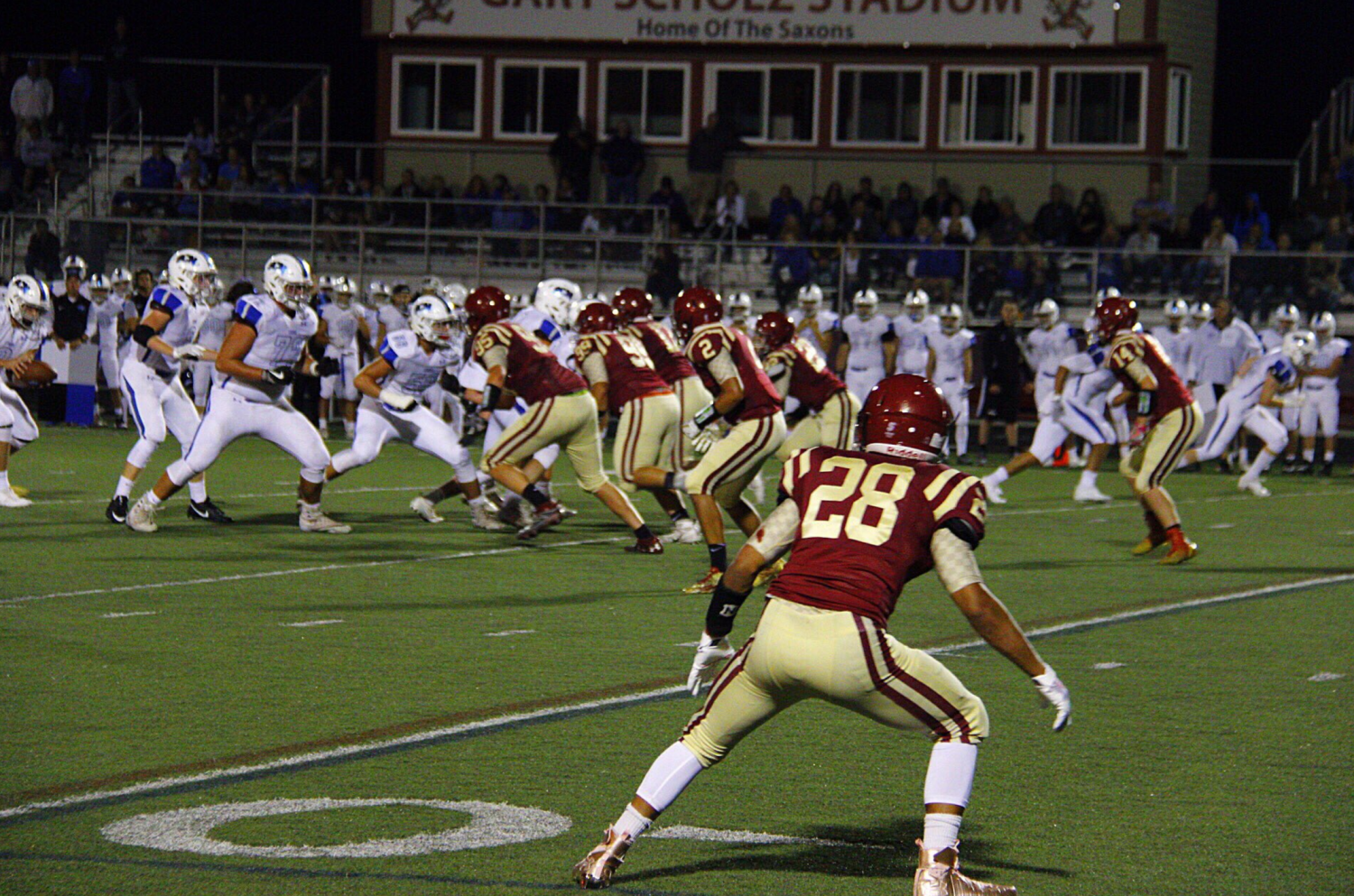 Karthik Myneni, Scribe Editor
September 22, 2017
The Schaumburg Saxons varsity football team currently has a record of 3 wins and 1 loss. After loing the first game of the season against the St. Charles North Stars, 38-13, in a rematch that seemed a parallel performance to last season, the Saxons responded with wins against the Prospect Knights, 21-17, the Niles North Vikings, 41-7, and the Glenbard North Spartans, 26-14.
The Saxons now look to improve their record to 4-1 against the Palatine Pirates at Friday's Homecoming game.   The Saxons owe their success to a solid running game and a defense that ranks second in the conference.
After struggling to get the offense going in week one with only seven first downs, the Saxons' offense turned things around and had double digits first downs in the next three games. Starting quarterback, Deontae Arnold played a major role throwing 16 completions out of 31 attempts for 212 yards and two interceptions.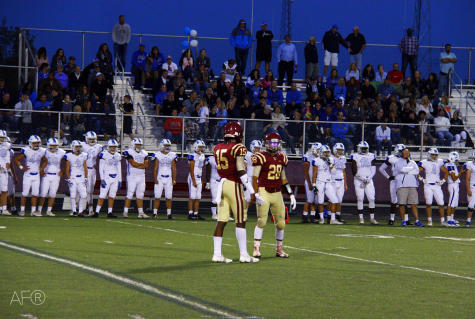 While Arnold far has been successful, he is quick to credit his offensive linemen, which consist of Paul Anderson, Tristin O'Connor, David Drs, Jaylen Young, and Mike Dan.
The rushing game has been consistently racking up yards, 148, 130, 248, and 245, respectively. Standouts Jordan Salgado and Hezekiah Trotter combined for 65 carries for 393 yards  Arnold also contributes to the running game with 10 carries for 119 yards against the Spartans.
The passing game has been inconsistent, ranging from 42 yards to 208. yards.Trotter lead the time with eight receptions for 124 yards.   
"The energy from the fan sections was helpful leading into the second half" and adding "don't expect to see losses from here on out," Trotter said.
Throughout the four games, the defense has been showing improvement. All three levels have been solid for the Saxons.  They are currently the second-ranked defense in the conference giving up a combined 38 point the last three games.  The Saxons defense is poised to remain stout this week against the 2-2 Palatine Pirates. 
"It was all our coaches, the d-line, linebackers, and secondary. Connor Barry made an awesome play and Victor Olaitan (safety) was filling the alleys. They were doing tremendous jobs"  Salgado stated.
A sore point across all the games were the penalties racked up by Schaumburg. Head Coach Mark Stilling admitted that costly penalties must be reduced going forward. "It's certainly an issue," Stilling said. "We've got to clean that up."
Overall, Schaumburg has the grit and never gave up in their pursuits. "They kept fighting, kept fighting and kept fighting. We kept talking that we've got some guys who can be explosive but we understand that's not going to be the case every play," Coach Stilling said.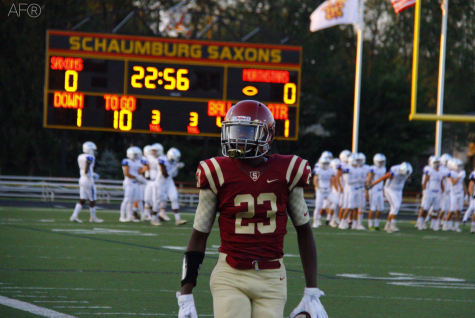 Total Views: 27824 ,