SHS choir continuing to excel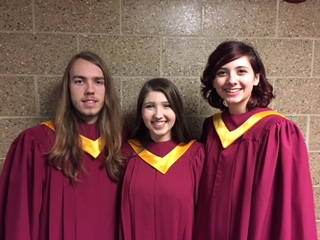 Three Schaumburg students, Olivia Donofrio (a senior alto one), Cameron Kidd (a senior soprano one), and Jake Long (a junior bass one), competed Illinois Music Educators Association (ILMEA) District 7 Choir, which performs November 11, 2017 at 3PM at Glenbrook North high School.
Illinois is divided into nine districts. SHS is part of District 7. Every year each district hosts rigorous auditions that give the chance for Sophomores, Juniors and Seniors to be a part of the District Choir. If they make it in, they are then eligible for the All State Choir and Honor All State Choir, which perform at the ILMEA conference in  January. Between 600 and 800 high schoolers audition for the District 7 Choir annually, and under 200 make it in.
"I feel more validated as a singer," Jake said, as he reflected back on the October 2 audition. "I just started choir when I got into high school. It quickly changed my life… I'm either going into vocal performance or musical theater… It makes me feel like I can actually do this in life."
The District Choir sings five pieces of music. Two are state selected, and the others selected by the district. Singers wanting to audition need to learn all five pieces by heart. A week before auditions they are told what section of two pieces of music they will be auditioning with. Then they go in a room with a judge for a blind audition. The students sing the pieces themselves with no choir or music context to help them.
Mrs. Espel, our SHS Choir director commented on Olivia, Cameron and Jake's achievement. "It's a big milestone because it's very competitive. Especially for sopranos and altos, because there are more sopranos and altos that audition… There was a significant amount of baritones and some very high quality singers, so it's a big accomplishment."
The auditions also consist of a sightreading challenge, and a series of tonal skill exercises. Singers need to sing two scales, a major and minor. They find out which ones a week before the auditions as well. Then they sing three out of the four triads. Band and orchestra have a similar audition process for their state and district ensembles.
"I did it last year so for me this year it was almost a goal. I felt like if I didn't make it in again, the I would be letting myself down… It was really exciting that I did, and I don't know how I did it," explained Olivia. "It was nerve wracking for sure… but as soon as it was over I was so relieved."
The fact that three students made it past auditions and into the District 7 Choir, means a lot to the SHS music department. It reflects the quality and development of the Schaumburg music programs. It also gives insight to the growing personal responsibility of students. Choir students are taking singing and music more seriously, no matter what genre is sung.
"I'm super passionate about choir" Cameron recounted. "I'm super passionate about music. And music in general, because I'm majoring in vocal performance.  It's really exciting to be in the choir because you're surrounded by people who are just as passionate about the music as you are and that's something I really love about the choir."
Total Views: 3071 ,