SHS students prepare for the upcoming "testing season"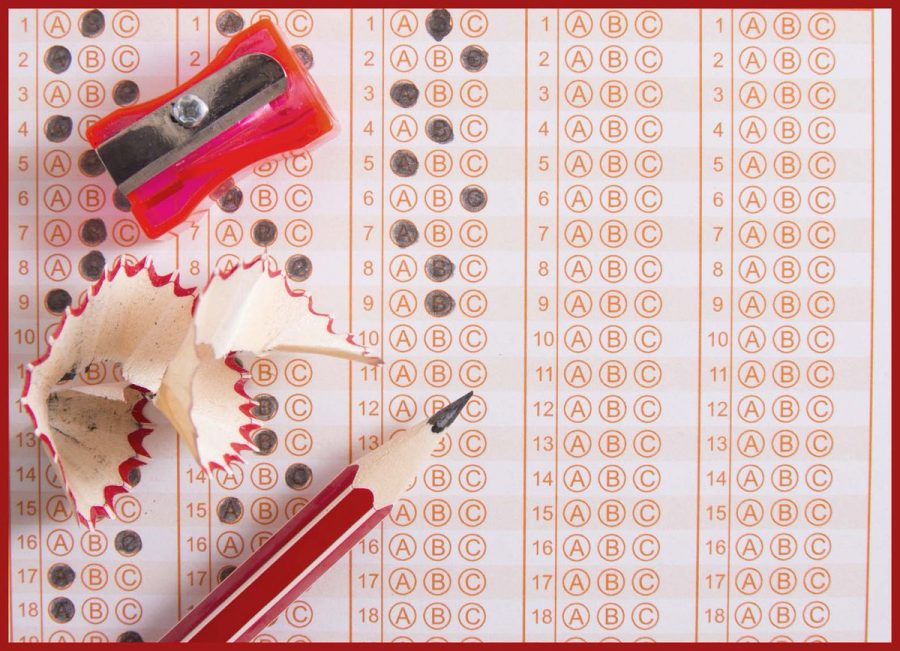 Oskar Malkiewicz, Scribe Reporter
February 15, 2018
As the first month of second semester comes to a close, Schaumburg students have begun to realize that they are in the thick of it. With only a few months left in the school year, it is important to consider the approaching plethora of tests, exams, and assessments.  Many Schaumburg High School students worry about what the future holds for them based on these results.
Each year, SHS students take tests depending on their year in school.  Seniors, having already taken the SAT, ACT, PARCC, and other miscellaneous tests, focus their attention on AP and Biliteracy exams. Juniors focus in on the SAT, as part of Illinois' assessment mandates, the ACT for individual college application, as well as AP exams; freshmen and sophomores also take AP tests, while all SHS students face course-specific Type 2 and Type 3 assessments and DBAs.
AP exam registration has recently completed, and testing is scheduled to transpire near the beginning of May. The price of exams has risen by a dollar since last year, and prices for specialized tests like the AP Seminar test are even higher; this is all part of an initiative by College Board to make testing more profitable. While the rising prices have certainly raised eyebrows, the small increment of the increase has stopped large-scale debates from forming. For many, this year is the first they have registered for AP exams due to the district's initiative to get students into AP classes; in fact, over 712 SHS students have registered for 1746. While these costs may continue to rise, students who score well on these exams stand to earn college credit which can save thousands of dollars in college tuition.
"The $94 payment for the AP test is worth it for the potential to save several thousand dollars later on, alleviating my financial burden in the future and opening up my college schedule to classes that go more in depth into topics I care deeply about," senior Danny Owen said.
"Testing Season" is often stressful yet fruitful; good scores on tests like the SAT can help a student feel secure in their status as a top student.  A 3, 4, or 5 on an AP exam allows a student to demonstrate their academic abilities to prospective colleges, while receiving college credit for their turmoil in the testing room. Nonetheless, students express their dissatisfaction with testing in several ways.
"I don't like that one test determines your entire life. This concern about the ethics of standardized testing is common among students," sophomore Magda Organek states.
Along with ethical concerns come economic questions: do decisions made at the state level also threaten to cost students more money?  ACT testing is no longer administered free at SHS because the SAT has become the standardized test used to measure school performance.  The change in test came, according to the Chicago tribune, due to the termination of the contract between the ISBE (Illinois State Board of Education) and the ACT administration. With the end of the agreement, the ISBE was free to renegotiate; College Board's redesigned SAT was deemed a better representation of a student's capability to learn and retain information.
The ACT remains, however, the more familiar and preferred assessment. Thus, many students have taken it upon themselves to sit the test outside of school. Registration for the February session has already concluded, but there is still time to register for the test in April. Some students, however, are frustrated with this switch.
An SHS junior, who asked to remain anonymous, vented his frustration saying that schools "should pay for both tests, or at least give [students] a choice."  He further cited difficulties with registration and taking the test outside of school. The new contract, however, guarantees the SAT as the status quo for now.
Finally, the Seal of Biliteracy test is opening up registration that will last several weeks. The test costs $20, and this Arabic, Hindi, Portuguese, Chinese, Italian, Spanish, Japanese, Russian, French, Korean, Thai, German, and Polish languages are available.
A student who passes the biliteracy test is rewarded with a seal, placed upon the student's diploma, certifying that individual's proficiency in reading, writing, speaking, and listening in another language besides English. The seal, valid in any public college in the state of Illinois, counts as two years of high school language credit and several credit hours at a university.
With this, students should be prepared to succeed in achieving their desired scores on upcoming tests this school year. As the deadline approaches, staying up to date with dates and times is becoming more and more important to SHS students.
Total Views: 1737 ,