Schaumburg students walk out in protest over gun laws
In the wake of the Florida high school shooting that left 17 dead, an estimated 1200 Schaumburg High students walked out of school on Wednesday, February 21 to demand stricter gun control and school safety.
As the bell rang to signal the end of fifth period, students, many carrying signs and chanting "save our kids," "no more guns,"  and #neveragain, exited the building and gathered in a designated area along Schaumburg Road where they remained for approximately 30 minutes before re-entering the building. The protest culminated in 17 minutes of silence, one minute for each victim of the Florida massacre.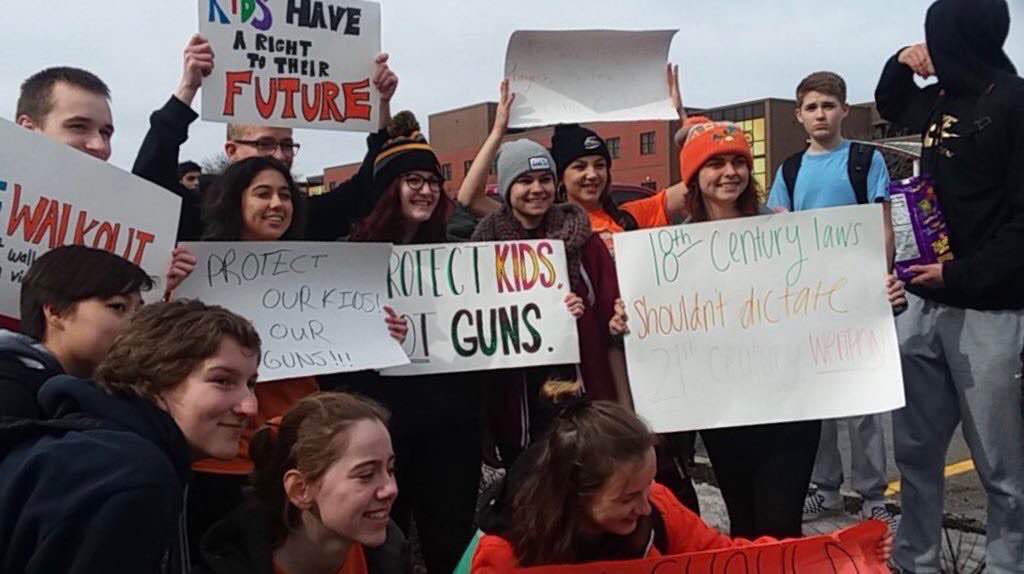 "We want to get the ball rolling, and we want students at Marjory Stoneman Douglas High School to see us and know that we stand in solidarity with them," Senior Mina Mazeikis said. "We are very much protesting the leniency and lack of laws. We want gun reform."
Students met with administration on Wednesday morning and informed them of their intent to the protest. A plan was put in motion that included school staff, faculty, administrators, and local police.
"We've given politicians time to take any action. The time is ours," said senior Jake Kaminski. "If they're not going to do anything, we're going to show them we're not happy with them."
While many students nationwide contend that the walkout was merely for exposure, other teens are already planning future protests in the upcoming months. On March 14th, students have planned a seventeen-minute National School Walkout devoted to honor each life lost in the Marjory Stoneman Douglas High School shooting.
"
We are very much protesting the leniency and lack of laws. We want gun reform."
— Mina Mazeikis
"A lot of people forget about what happens, so we need to have more protests," demonstrator Molly Hall said. "This is something serious and something we shouldn't just forget. We have to do something about it."
SHS students continue to take action by writing letters to their congressional representatives­­, lobbying and calling their state representatives. Many individuals believe that more exposure and visibility on the issue will generate a greater impact.
"I definitely think that we are on the right track, but our fight for gun control cannot stop at the school doors! As students, we need to reach out and spread the word. What we did today was so empowering but that need for justice cannot stop."
While Schaumburg students protest current gun laws, District 211 has emphasized its commitment to student safety. In a letter, Superintendent Dan Cates informed parents that the district takes every precaution to ensure student safety. In his letter, Dr. Cates outlined procedures for reporting concerns, safety drills, and the district's relationship with local resources, including police, hospitals, crisis teams, and therapists.
"Our mission was, and is, to keep kids safe at all times," Principal Little explained.
Within the upcoming years, Schaumburg High School students will be turning 18, allowing them to vote in future elections. Students at Schaumburg are taking matters into their own hands. By registering to vote and casting ballots in the election, students can act upon the issues that they are inspired to change.
As people have rallied together to take action, Principal Little has also taken care to remind students that they also have a responsibility to communicate and share concerns. We can all work together to keep our school and community safe.  If you, or anyone you know, has information that can help keep Schaumburg students safe, please report your concerns to a teacher, administrator, or staff member, or you can fill out a safety concern on the Schaumburg website.
Total Views: 3832 ,