BPA brings home the gold after successful trek at State Conference
Hang on for a minute...we're trying to find some more stories you might like.
When discussing the business industry, one typically has a tedious time contemplating terms like Blue Chip Stocks and memorandums. But on the first weekend of March, Schaumburg's Business Professionals of America squad did just that when they competed in events involving finance, business management, and office procedures.
Proving that success is definitely a component of Schaumburg High School's 2017-2018 school year, BPA succeeded in reaching the national conference in Texas in May, with 12 of its team members placing in all of their events.
Seniors Edwin Suresh (3rd place in Banking & Finance and 2nd in Personal Finance Management), Maddy Chau (2nd place in Intermediate Word Processing), Sara Shahid (1st place in Medical Office Procedures) and Vivek Bhatt (5th place in Visual Basics); Juniors Olivia Swiech (4th place in Intermediate Word Processing and Advanced Office Procedures), Raphael Portillo (1st place in Legal Office Procedures), Laxmisanjana Ade (6th place in Fundamental Word Processing), and Rob Budak, Brody Adelman, Rahul Kalakuntla, and Pranay Singh (1st in Computer Animation Team); and Sophomore Matthew (Placed top 10 in Parliamentary Open Concepts) all qualified for the national conference, where the will compete against schools from states.
The team has been training regularly in anticipation of the competitions. Individuals put in hours of preparation outside of school, researching and taking practice exams.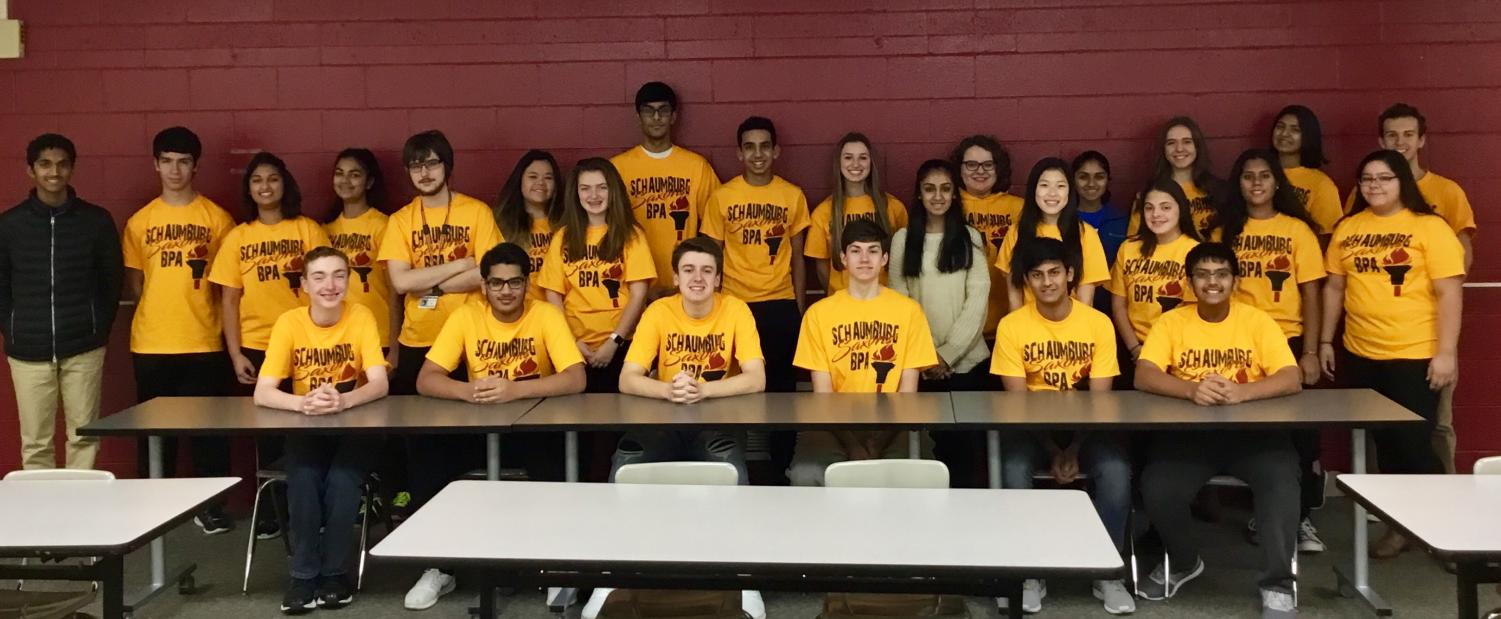 "Groups meet regularly and have a plan for how they will meet their goals and to divide work," senior Edwin Suresh stated. "If you are able to anticipate questions and familiarize yourself with as many topics as possible, there is a greater likelihood of success. In my event, I talk to adults with experience to gain as much exposure as possible."
Each team member participated on Thursday, March 1 or Friday, or March 2 at Oakbrook against schools from around the state for a spot in the National Conference. Spots were limited for all competitors as the maximum for non-judges events (tests) were 5, while the ones that required a judge were 3. 
Titled "Dream Bigger", the National Conference began with a conference room filled with students meeting for the initiation. With students pledging allegiance to the U.S. flag, singing the national anthem, and finally going through the orders of the day.
"It was amazing to be surrounded by so many like-minded individuals all striving to 'dream bigger,'" according to Senior Maddy Chau.
Chau attributes her success to months of practice and the knowledge she gained from taking business classes, as there is a direct correlation with business classes and performing well in a competition about the many facets of the business world.
Believing that the team is instrumental to becoming a successful addition to the workforce the moment they leave the doors of Schaumburg, BPA students strive to succeed in all events they participate in just like anyone in the workforce.
This season provides another success story, as Schaumburg sends students across the country during the second week of May. Wish the BPA luck as they bring their Saxon intellect to the national stage.
Total Views: 1252 ,