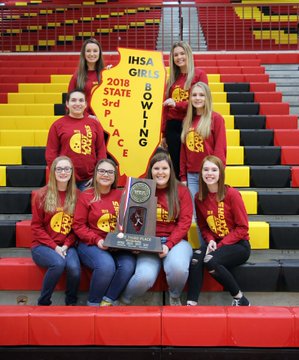 Following a 33-0 2017 season that ended disappointingly early, the Schaumburg Girl's bowling team entered the 2018 season with a giant chip on their shoulder. With a 30-3 record and a third-place state trophy, the girls' bowling team now has the hardware that has eluded them in recent seasons.
The team entered the second day of the competition in second place. Junior Kylie Frick led the Saxons with an average of 209.7.  Frick's average earned her a seventh place overall finish.  Their success was truly a team effort, however, as every player contributed in every round. Coach Mark Kelly believes that the key to the team's success creating a sense of unity.
"Early in the season we were more concern about our individual success and not so much on the team," Coach Kelly stated. "We would bowl well as a team, win a match, and yet the girls would be frustrated if they did not bowl well individually. Once the girls realized the bigger picture was the team, and girls began to pick each other up when bowling poorly–began to deal with adversity in a positive manner–we started to bowl well."
Their success, however, was not simply a matter of emotion and team identity. The team trained and worked hard all year long.  Competing against dozens of teams across Illinois, Schaumburg bowlers prevailed through the strength and techniques they developed during each of their practices.
"We spent months training for conference and the state series. Receiving first at conference and third place in state feels like our hard work completely paid off." junior says.
Even when it came to academics, the bowling team was able to juggle all their schoolwork together, which made the bowling ball seem lighter in hindsight. Cassidy Leno, a junior enrolled in two AP courses says, "This year was definitely one of my favorites. We had so much fun together; we always were laughing at something, and [held] our heads up even when we struggled." Supporting one another during every single hardship, the bowling team was able to strike down pins and difficult exams during their entire season.
The Saxons' biggest obstacle was bowling consistently, getting to the ball from point A to point B on the lane and improving mechanics in order to generate and maintain muscle memory. Coach Kelly attributes improvements to "PRACTICE, PRACTICE, and individual one-on-one practice."  That work put them in position to succeed in state competition, and their camaraderie make the high-pressure situation fun and enjoyable.
"It was one of the most exciting times I experienced all year long," Junior Taylor Davis says, "Even if we didn't place, I would still have been so proud of us."
The Saxons promise to be a force heading into the 2018-2019 season, as they will return all the parts necessary to make a run at a state title.
"The three juniors have been bowling varsity since they were freshman, and the other two girls have been bowling for many years. I am excited for next year." Coach Kelly added.