Tackling the college application process
You've worked hard, done your homework, earned good grades, and participated in sports and activities. It's all there on your transcript. Everything you need to get you into the college of choice.  But there is one last step: the dreaded college application.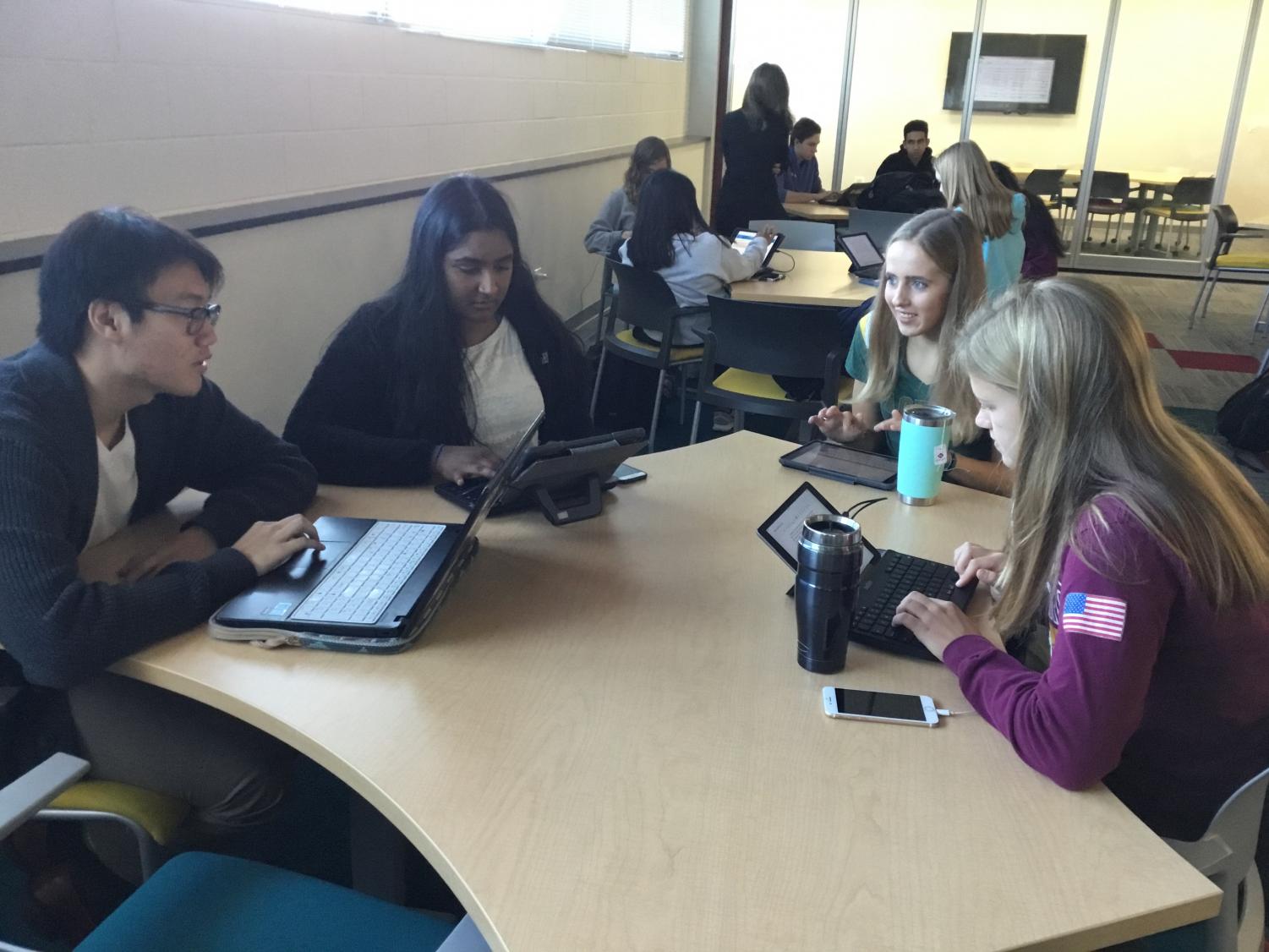 Each year, hundreds of Schaumburg seniors embark on the stressful journey of filling out applications, gathering recommendation letters from teachers, and writing application and scholarship essays. Last year, over 94% of seniors enrolled at a two or four year college. But where should you start?  Our counselors are always ready to offer specific help.
"Common App gives you so many options; it's hard to know which would make the best essay," senior Becca Skidmore said. "The process is so time consuming. Between work and school, it's difficult to find the time to finish. It's stressful because it limits after school opportunities or extra hours at work.
"I think the biggest obstacle for students is the evil of the unknown," college counselor Mr. Kostalek stated.  "This process involves a lot of new information and students often feel they are expected to respond to questions they don't have answers to. However, as long as students utilize their resources they will be able to navigate these obstacles."
SHS and District 211 offer a variety of online and in-person resources. In August, students meet in small groups to "[m]anage the logistics behind the college application process in order to begin completing applications."
"
Common App gives you so many options; it's hard to know which would make the best essay."
— Becca Skidmore
"We try to emphasize pieces of the college application, the letter of recommendation process, how to obtain scholarships, financial aid information and resources for students to use," Mr. Kostalek further stated. "Counselors do this through College and Career Readiness groups and hold individual meetings to help further explore and prepare them for their post-secondary plans."
Other programs include the Kickoff to College Applications and Financial Aid on August 30, the First Generation College Symposium on September 19, and the District 211 College Night on October 10, all of which are designed to help students understand their options and provide necessary information for streamlining the application process.
"The First-Generation College Symposium is geared to help families of students who will be the first to attend college," Mr. Kostalek said."  Representatives [from various colleges] will focus discussions and presentations on topics such as financial aid, adjusting to campus life and the difference between types of colleges."
"My parents didn't go to college, so they had no background knowledge on how to begin the application process, senior Simran Singh said.  "It helped me realize what I can do and what will help me with my applications. It made me feel more confident and ready to start college on the right foot."
But even students who come from families familiar with college and the admissions process can still find thing to be challenge.  To organize and plan on a larger scale, District 211 has stepped in to provide guidance across all the schools.
"District 211 College Night will feature over 180 college and military representatives from around the country, Mr. Kostalek continued.  "Students will have an opportunity to meet and ask specific questions to the same representatives who may be reading their applications."
The event is open to all D211 students, but it is most specifically geared towards junior and senior students who will soon apply to schools.
"I went to the District 211 College Night to get information from different colleges," senior Ryan Gustafson said.  "I found some colleges I'm interested in and ones that have the majors I'd like to study. It helped me narrow down my options. Talking to an actual representative helped me decide that college interested me."
Mr. Kostalek offer this advice for applying seniors: "I have three pieces of advice for seniors. First, start the process early. Second, utilize your resources (counselors, teachers, and educational websites). Third, set aside a designated time each week to work on college related tasks."
While the application process can be a stressful challenge, it is not something that students need to face alone.  Make sure to take advantage of everything that the school has to offer; start by meeting with your counselors and regularly checking the College and Career Schoology groups.
Total Views: 3550 ,