Improv troupe brings the laughs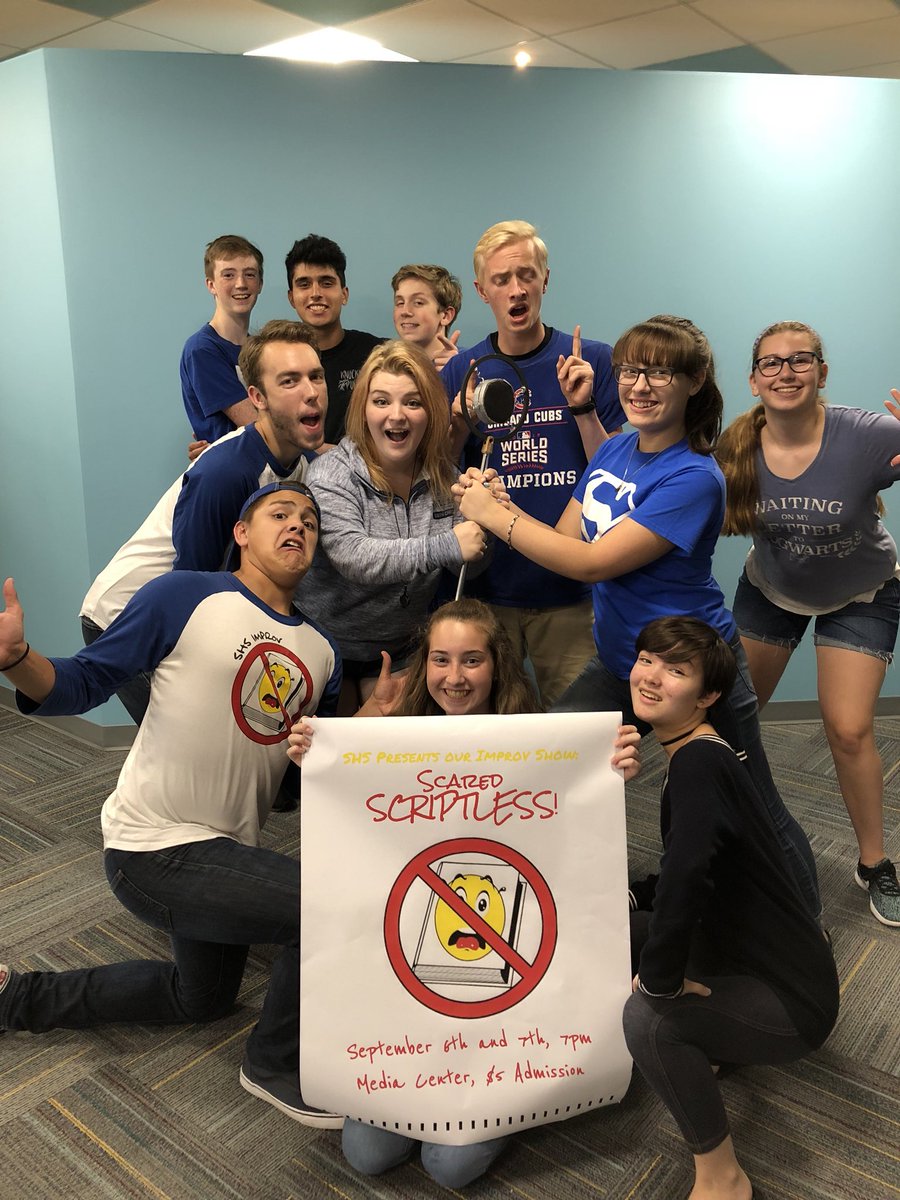 In traditional theatre, actors memorize and rehearse scenes; the audience knows what to expect. Improv comedy, where each scene and each performance take on a life of its own, offers the audience a truly unique and interactive experience.
Schaumburg's improv troupe, "Scared Scriptless," took the stage on Thursday and Friday for two evenings of laughs. Ms. Micheletto and Mrs. Kern directed the evening, taking suggestions from the audience, bringing the "players" to stage, and managing the games. "Players" worked for weeks honing their improvisational skills. Freshmen Brandon Saam, Madeline Hutchinson, sophomores Chieko Dunham, Don McCormick, Kyra Howard, junior Brian Quill, joined seniors Paige Lovell, Aeden Humphrey, Sage Morton, Sumair Ahluwalia, and Jake Long in making up the eclectic cast.
"Improv is not just getting up there and 'being funny.' In order to be successful, improvisers must follow rules and practice the 'game of the game.'  It takes a crazy amount of practice to be successfully spontaneous," Ms. Micheletto said.
The evenings' biggest laughs came during a game called "sideline debate," a version of charades where "players" act out words syllabically and a "debater" attempts to guess the phrase.
"The environment is easygoing. As an actor, you don't need to be embarrassed about crazy," improvisor Sage Morton stated. "Improv is entertaining because an actor is always coming up with creative ideas. The different personalities mesh together to create a humorous scene."
"Some of my friends were in the show, so I went to support them, but I love to laugh, and they didn't disappoint!" senior Karly Balslew said.
At one point in the evening, English teacher and Dean of Students Ms. Gbur was brought on stage and was asked questions about her routines, fears, and her favorite parts of her school day. Players then used her answers to create a humorous, original scene entitled "My Nightmare."
"I couldn't stop laughing!" Ms. Gbur stated. "I didn't realize my normal routines and passions could be such a terrifying experience. I was impressed with the actor's ability to turn every day occurrences into a horrific yet hilarious experience."
While this is Schaumburg's only improv show, local comedy clubs offer classes and shows on a regular basis.
Total Views: 4512 ,