The Ballad of Joji: A Review of Joji's "BALLADS 1"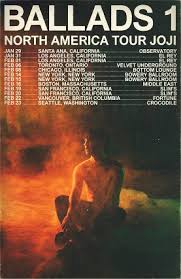 Oskar Malkiewicz, Editor-in-Chief
November 13, 2018
Internet icon turned R&B singer George Miller, operating under the pseudonym Joji, has seen a meteoric rise in popularity in recent years. Prior to his current work, Miller was known on YouTube as "Filthy Frank," a politically incorrect comedian/troll who managed to amass an audience three million strong.
On October 26th, 2018, BALLADS 1, Miller's full-length debut, dropped on streaming sites worldwide. The singles preceding the project's release were promising; the mellow arpeggios and explosive chorus of "Slow Dancing in the Dark" demonstrated to listeners that Miller is expanding his vocal range, while "Yeah Right" echoes Miller's earlier acoustic style. These few singles, however, do not represent the entirety of the project; they are like gems in a dumpster fire. "BALLADS 1" is only a meager improvement from Miller's earlier work, with the same moody, droning mumble-singing that has plagued his work for the past few years.
Cuts like "Can't Get Over You" and "Test Drive" are a slog to sit through, even with the former clocking in at under two minutes. On the other hand, songs like "R.I.P." succeed because of guest-singer Trippie Redd's signature vocal inflection and delivery, making for a dark and unsettling experience that is genuinely enjoyable.
Throughout his stay on YouTube, Miller dropped two full-length records that featured profane, satirical, and downright offensive lyrics, the latter of which managed to peak at #70 on the Billboard 200. While working on the Filthy Frank channel, Miller teased at a departure from his offensive style with slow, melancholic R&B cuts from an apparent upcoming project titled "Chloe Burbank." While the project was never realized, Miller took his lo-fi aesthetic with him as he made the transition from internet firebrand to signed artist.
In 2017 Miller was signed onto 88rising, an independent hip-hop/R&B label. His first EP, "In Tongues," was a collection of moody love songs that, in truth, ended up falling flat. Miller's meandering vocals (coupled with the project's stale trap instrumentation) resulted in an air of teenage angst that, while effective on singles like "Will He" and "Demons," ultimately came off as melodramatic. As news of a debut album from Miller began to surface on the internet following the release of "In Tongues," fans and critics alike were excited to see how the project would develop.
Miller seems to have gotten himself into a rut where he wants to experiment with a more mainstream style but feels as though he's bound to the lo-if sound, which gave him notoriety in the first place. As such, this record feels stuck between a rock and a hard place. Hopefully, Miller's next effort will be more cohesive and defined, even if it means moving toward a more pop-based aesthetic.
Total Views: 3190 ,