"James and The Giant Peach" opens at SHS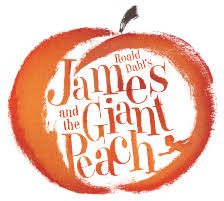 On January 31 at 7:00 PM, February 1 at 7:00 PM, and February 2 at 2:00 PM in the auditorium, the SHS theater department presents the winter play: James and the Giant Peach.
The play is based on the beloved classic by Roald Dahl of the same name. In the story, a young orphan lives with his two cruel aunts. He finds a way out of his horrid life when he finds a giant, enchanted peach in which he and the bugs set out on the journey of a lifetime. 
"I read the book when I was little, and I thought it was a fun fantasy book. It's cool to be in it said, junior actress Nicole Vela. "I think many people should come to see it because it's a book they will [also] remember from childhood." 
This year's winter play is unique, as the cast will be performing for local elementary students, during a matinee on Wednesday, January 30. 
"The most challenging part is to not be like every other show that we've done," student director Paige Lovell recollects. "We want to make this different, especially because we have a new, younger cast, and we want things to stay new and fresh."  
For this production, the actors need to take on an exuberant, larger than life personalities in order to portray the characters, which is part of the challenge and what makes this production differ from shows past.
"This is new. There's a big difference in the acting you need to do from Tartuffe to James and the Giant Peach," sophomore actor Don McCormick mentioned. "All characters are expressive. Their movements have to be large because we need to keep it entertaining. It's for more than just kids. There are subtle undertones in our speeches. It can make anyone laugh. It's the kind of slapstick humor that everyone loves." 
"
I think many people should come to see it because it's a book they will remember from childhood."
— Nicole Vera
But, the show isn't all fun and games. Rose Gruenwald, senior actress, took note of this. "Roald Dahl has some darker elements, and we're not downplaying that. We are letting those darker elements stay in, and are staying true to this Roald Dahl classic. The characters are in real danger, and we make it seem like they are, in fact, in real danger." 
 The tech crew is working bring these various aspects of the show to life through set building, lighting, and sound. It is their job to create the storybook feel that this play needs.  
"We have an amazing student design team for the technical and production aspects of the show. They are such an important part of our creative team," Director Jamie Micheletto states. "Working with the tech design team has been my favorite part of this show thus far; I love having students coming up with so many creative ideas for the show." 
While based off of a book for a younger audience, the play offers something for everyone.
"There are so many characteristics to it. It's a really fun show to watch," says sophomore Sophie Thongvanh. "James and the Giant Peach lets students have fun, yet still explore their imagination. It is a great production allowing a big imagination. There are so many directions that the plot can go." 
"It would be great for the school to see this show and have a night to enjoy themselves and let loose. Let the stress of the day go. Enjoy a show. Laugh and have fun,"  Aeden Humphrey, senior actor, notes.
 As it holds a special place in many of our hearts, James and the Giant Peach is the perfect production to do just that. 
Tickets will be available at the door for $5.00 for students/children and $7.00 for adults. Tickets can also be purchased online with an additional service fee. To buy tickets online, visit https://gofan.co/app/school/IL15656
Total Views: 3158 ,