Prom doesn't have to break the bank
Prom 2019 is nearly here, and many people are scrambling.  A 2015 Visa survey found that American families were spending an astonishing $919 on prom in 2015.  This exposes a critical obstacle: prom becomes financially impossible for many students.  In particular, many cannot afford to spend hundreds of dollars for a dress that will rarely be used. Fortunately, there are plenty of cost friendly options to look incredible and not break your wallet. So if you still haven't found that perfect dress, here are a few options to consider:
The Ladies Room, located at 410 S Main Street, in Lombard is a consignment store. This store sells gently used prom dresses at more affordable prices. Some students are already familiar with the store by word of mouth. The Ladies Room gives back to the community by providing all the dresses for the Schaumburg High School Prom Fashion Show.
The Ladies Room boasts an assortment of dresses from which to choose, including popular brands such as Sherri Hill. The prices start from $70, much cheaper than many other prom dresses. In addition to all this, the Ladies Room has a wide assortment of vintage prom dresses, which offers shoppers a unique gown.  This virtually ensures that no one else will have the same one as you!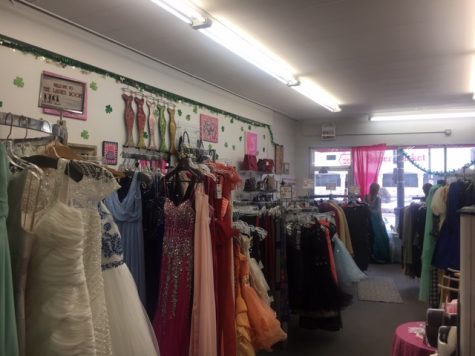 On the dresses, tags display the original cost and where it was worn. This ensures a great deal and shoppers can make sure that their dresses unique, making for a memorable night. The Ladies Room gets anywhere from one to twelve dresses each day from girls all over the Northwest Chicago area. With new dresses constantly arriving, The Ladies Room ensures a great selection to find the perfect fit!
Other closer options for students include department stores, such as Macy's and JC Penny's, located in Woodfield Mall.  While paying retail store prices may seem daunting, many dresses are now on sale; prices range from $20 to $113, after using available coupons. Macy's offers a wide selection of dress lengths, as well the very popular two-piece dresses. At Macy's, prices range from $24 to $598. Both stores have an even larger selection online than available in the brick-and-mortar locations.
Speaking of which, online shopping for prom dresses is more popular than ever, and it can get you beautiful unique dresses for cheaper than popular stores. Many have experienced disappointment after ordering a gorgeous piece online, only to receive cheap, completely misleading, awful garment. One way to avoid this is to not shop at websites whose prices are so low they are seemingly too good to be true.
Another online shopping tip is to closely read the websites return policy; reputable companies usually have manner to make sure you get your money back.  Also, while it may be frustrating, it is extremely important to measure yourself.  This is especially important if your website is based in another country, because the measurement scale is not always the same. Look closely at measurement charts provided by the website!
Another option is Rent the Runway. This website rents designer dresses for four day periods; this allows you to look great while staying in budget, and avoiding having a dress that you won't need to store. It has great reviews, and great rental prices! Their prices range from $30 to $525.  They boast over 300 designers, and stunning unique dresses. You also the opportunity to order a backup size for free in case yours doesn't fit. They have a great feature where almost every single styled has pictures of happy customers wearing it. In addition, they handle dry cleaning and you can return the dress for free.
Hopefully this gives you some ideas if you're stuck in some last minute prom shopping.  Good luck bargain-hunting!
Total Views: 3122 ,