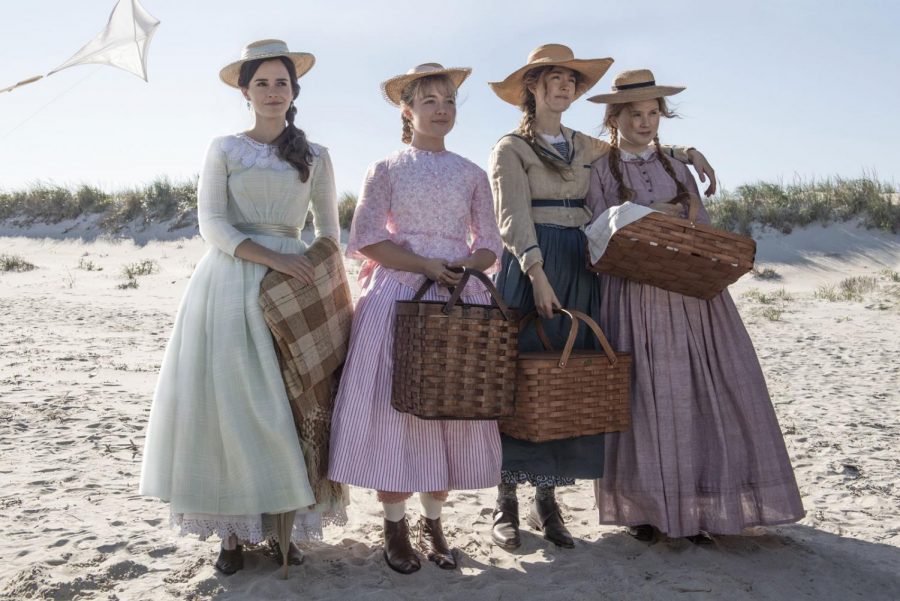 When I was little, I always heard of some great old American novel called Little Women, but I never decided to read it.  I didn't plan on reading some boring book for the next 20 years of my life. I never watched the older movies either—because they were old. But when I heard that award-winning Greta Gerwig was directing a new Little Women movie, I knew that this was my chance.
Whenever I think of a period piece, I immediately cringe at the thought of a long, monotonous film with Maggie Smith sitting in a fancy and ugly armchair. Little Women was nothing like that at all. 
It was an intimate look at the lives of four sisters as they encounter the next phase of their lives—adulthood. Although they are experiencing this in early America, their struggles are relevant to people today. We still desire wealth, a career, a relationship, etc. The movie focuses on their relationships with each other and the goals that might hinder or strengthen their connections.
To be frank, this movie made me want to read the book. That's how good it was. 
Considering the time frame when the book was written, I was not expecting to see all the bad bitches that I got. Each person represented different types of people—the quiet type, the angsty type, the romantic type, and the naive type. 
When I first met Florence Pugh's whiny character, I thought I would get annoyed with her before she could complain for the 46th time. But the actress actually made great choices with her performance as she made her problems seem mature and reasonable as the story progressed. I really felt for her and the relationships she would eventually develop, and it was all due to Florence Pugh.
Amy March.
Thats all.
Thats the tweet.#LittleWomen pic.twitter.com/MbK1bB2lnx
— Gayer than Ever (@GlutenFree_zy) January 9, 2020
My main concern going into the movie was whether or not I could get past Hermione Granger (Emma Watson) portraying an adult woman who actually desires marriage. I'm used to hearing Emma Watson championing independence or seeing her as the true star and MVP in the fight against Voldemort. I expected that Emma Watson would be the complete opposite—a submissive woman who will marry whoever she can to be a wife. But again, her grace and her confidence made the character into something else. She reveled in her ability to have choices and took power in the fact that she chose marriage. No one else threw it on her. My only issue with Emma Watson was that her American accent was off. It was a little uncomfortable in all honesty.
I'm betting it'll be better than Emma Watson's inability to maintain an American accent in #LittleWomen….
— Victor Field (@cindylover1969) January 15, 2020
Saoirse Ronan did it again. She has made so many amazing films and this just adds to the list. Her nonconforming energy is what really captivated me. As Jo, she knew who she was from the start; she never wanted to compromise. Again, she, like the rest of her siblings, Jo had the choice to be whoever they wanted. She was headstrong but also generous and loving. She was honestly many things that I know I can never achieve. Saoirse Ronan keeps serving performance after performance, and I wonder when she's going to take a break. Possibly after her 10th nomination?
Saoirse Ronan has been nominated for "Best Actress" at the Oscars 2020 for her role as Jo March in #LittleWomen. This is her fourth nomination! 👏🏻💙 pic.twitter.com/7um0gpuAEN
— saoirse ronan archive (@archivesaoirse) January 13, 2020
The movie did look like an episode of poor Downton Abbey, but the characters and vibe made it seem like it could take place in modern times. Filled with scenes of intense play and pleasure, the fast-paced nature of the film fit accordingly with the lives of many men and women today. I truly did not feel like any moment dragged. 
However, I do have to say they added this interesting time warp-y revealing how the women's lives turned out as they grew into adulthood. I was really kept on my toes, considering some plot points they included were not in the book. I loved everything they added as it added to the humor and the main character's independent energy. The meeting of the past and future in the end was so beautiful, and I almost stood up and clapped my hands (and did a TikTok dance) to release my excitement.
Little Women was amazing. There's no doubt that this was made and is watchable for everyone. Each character can relate to many in their strengths and insecurities. It honestly was a must watched film. And that director was snubbed at the Oscars—no doubt about it.