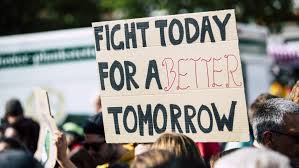 courtesy of IIED
On March 21st, J.B. Pritzker announced a stay-at-home order and, in the process, shut down schools and several businesses in order to combat the spread of Covid-19 cases.
With the newfound spare time, many teens–myself included–found ourselves attached to our screens and news outlets to stay informed of COVID-19 as well as using our screens for typical distraction. News outlets assumed a crucial role in informing the general public, which increased the diversity of news stories. With a more variety of topics and a greater likelihood for more people to consume news without any interruptions, there was a greater increase in attention toward real-world topics. 
With an increase in attraction towards the news and online forms of entertainment, many also immersed themselves into other topics as well, such as the BLM movement, the awareness of xenophobia, the terrifying forest fires, and more. As quarantine dragged on, I found that many such as myself found an active voice and role as supporters for various movements. Instead of hiding under the covers and sleeping in every day, young adults adapted and challenged quarantine head-on by immersing ourselves into advocating for a better society.
Teenagers ran to social media platforms such as TikTok and Youtube to express their views and gain insight into these topics. According to the Interactive Advertising Bureau, there was a 39% increase in social media and broadcast TV consumption. Our online world became the most convenient stage for a new type of activism, run by teenagers. Teens now hope to create a lasting impact on society through this new activism. It is very incredible and shocking to see that so many young adults engaged themselves in political affairs to not only better society but to educate others as well and spread awareness.
Look no further than our own community for example; Emma Davenport has recently helped to start and maintain an organization dedicated to providing masks to those who need them.  Organizing, fundraising, shipping, rallying, you name it… teenagers are taking on an unexpected responsibility to shape our society during quarantine.  This is fundamentally redefining what it means to be a teenager. We are not hopelessly emotional and impulsive; teenagers are passionate and protest for their convictions.
The surge in youth activists, stemming from quarantine, will no doubt continue into the future. According to the Interactive Advertising Bureau, 76% of people stated that their current consumption of social media increased and that they will continue to consume a high amount of social media. By using their disappointment with the current state of affairs as fuel, teens discovered the power that online activism wields and established an ever-growing active voice within society.
There's just one missing element: we must use this opportunity to encourage eligible teenagers to vote.  Teens are usually typically under-represented, politically speaking, because we don't vote at the same rates as other age groups.  So quarantine, and its effects which forced people online to great extents, pushed teens to discover their true potential as youth activists.  Hopefully reform-minded teenagers show up for the elections and continue what started online.