Photo Cred: Today Show
Another week of college hoops is in the books, which means it's time for another Bracketology update. Once again, we are providing arrows which indicate a team's progress from our previous update.
Note: AP Poll ranks mentioned are from the December 13th poll update 
UPDATED: DECEMBER 13th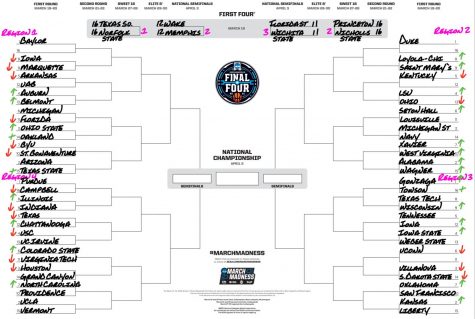 Gonzaga made my life so easy during last season. The 'Zags went undefeated, and the No. 1 overall seed was the easiest selection every week. Well, that's not the case this season. My 12.6 Bracketology update foretold things to come because I stated that "we've seen in previous seasons that it's extremely unlikely that a new No. 1 overall seed stays atop the bracket and remains unbeaten." Well, with Purdue's buzzer-beater loss to Rutgers, they become the fourth No. 1 overall seed to fall this season, opening the door for the defending champs, Baylor, to take Purdue's spot. My only question is are the Bears for real this season? 
With all the chaos occurring, the Blue Devils are the only 1-seed to remain both atop the 1-line and remain in the same region from our previous update. However, Duke hasn't played a game since they lost to a previously unranked Ohio State team on Nov. 30th. They will finish their non-conference slate this week as they play host to, Appalachian State (Dec. 16th), and Cleveland State (Dec. 18th) ahead of their conference schedule, which begins next Wednesday (Dec. 22nd) against Virginia Tech.
Gonzaga returns to the 1-line after both Purdue and Houston lost this past week. The Bulldogs were previously a 2-seed in Region 4 due to their recent struggles, but they returned to their winning ways over Merrimack last Thursday (Dec. 9th). The Bulldogs have some time off before their next contest at home against No. 25 Texas Tech, a fellow bracket team, on Saturday (Dec. 18).
And to close out our analysis of the 1-seeds for the week is Purdue, who lost to an unranked Rutgers at the buzzer. Many have asked 'why isn't Purdue above Gonzaga?' Purdue's loss to Rutgers is viewed as a "bad loss" compared to Gonzaga who lost to Alabama which is considered a "quality loss." Purdue gets back to work Saturday when they face Butler on the road in the Crossroad Classic.
Bracketology Top Seeds and Bubble
Note: The top seeds are directly from the seed list

On the Rise
The teams listed below were on the rise from our previous Bracketology update:
Alabama (Now: 2-seed — 12.6: 4-seed)
Ohio State (3-seed — 5-seed)
Auburn (4-seed — 6-seed)
LSU (4-seed — 7-seed)
Colorado State (6-seed — 9-seed)
Oklahoma (7-seed — 11-seed)
Illinois (8-seed — 11-seed)
Fading Fast
The teams listed below are falling fast on the seed list:
Houston (Now: 3-seed — 12.6: 1-seed)
Arkansas (5-seed — 4-seed)
Kentucky (5-seed — 3-seed)
Marquette (9-seed — 8-seed)
St. Bonaventure (10-seed — 7-seed)
Florida (11-seed — 4-seed)
New Additions
The teams listed below are our new additions to the projected field of 68:
Oakland (14-seed; Region 1)
Texas State (15-seed; Region 1)
Towson (16-seed; Region 3)