Finding Comfort in Man's Best Friend
On January 13th, during the 2nd and 3rd hours, as part of  a multi-unit AP Psychology study, Schaumburg High School hosted a visit from two comfort dogs, Tobias and Myra. 
Comfort dogs are trained to respond to human actions and support them emotionally.  This has been scientifically shown to improve a person's physiological and mental well-being because interaction with the specially trained animals can decrease levels of cortisol–the hormone linked to stress.
"Comfort dogs provide anxiety/stress relief, encourage mindfulness and increase overall levels of happiness," said AP Psychology teacher Cindy Dvorak.
Comfort dogs do not simply reduce stress, they can actively boost levels of the neurotransmitters, specialized chemicals in our brains, that produce feelings of tranquility.  While the necessity of comfort dogs can be debated, in this day and age, they can be a solution to the population's growing need for psychological help.  Their purpose has grown to more than just being companions; they provide a biological hack into our joy.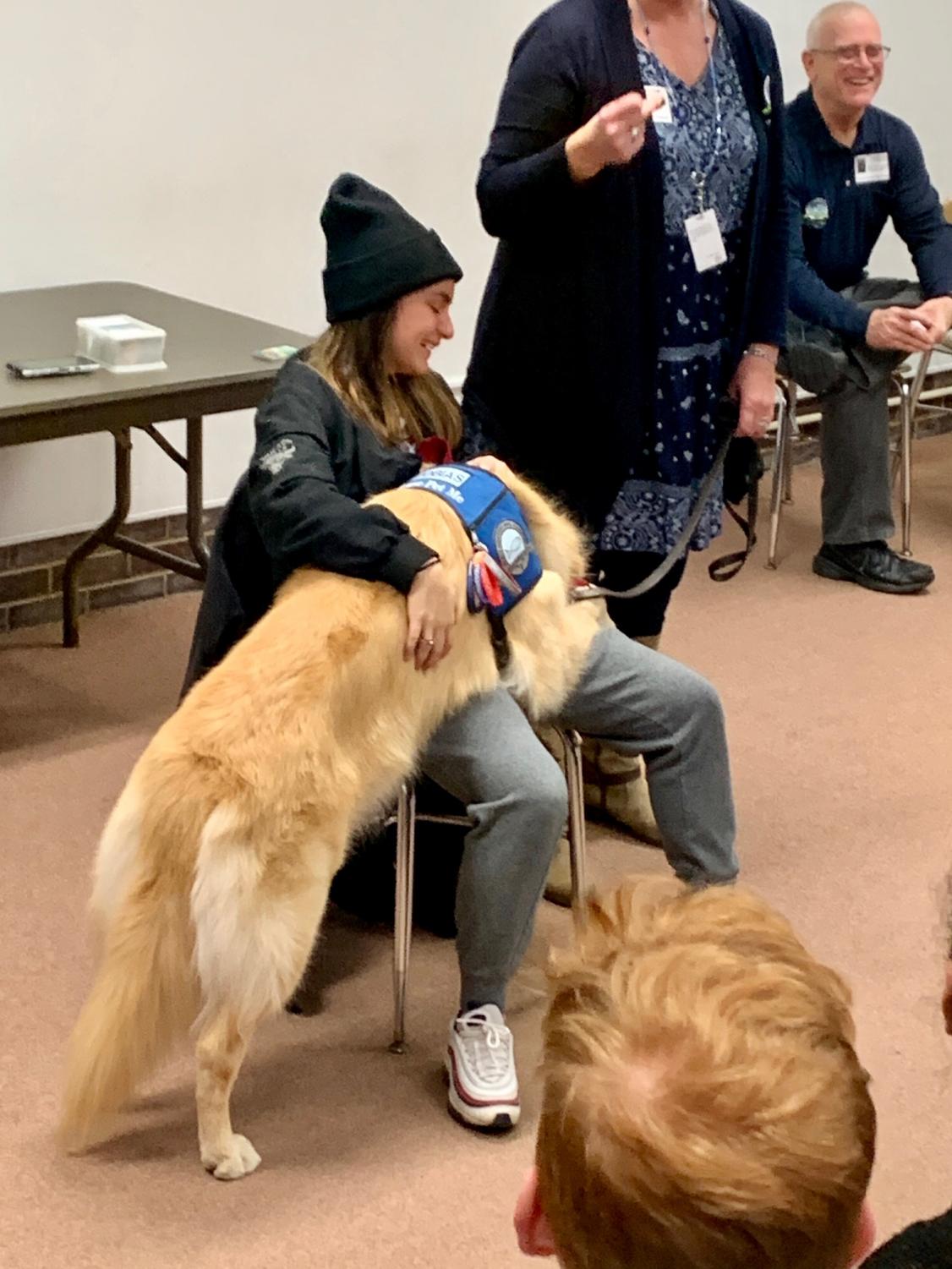 "Research demonstrates that those with pets often have increased levels of happiness.  These dogs are often used in therapy as children and adults are more likely to open up and be comfortable talking about troublesome issues," Dvorak states.
"I think getting to see the comfort dogs definitely made my school day better. It was a unique and interesting experience, and getting to pet a bunch of cute dogs is an easy way to brighten your mood and overall day," psychology student, Lauren Christians states.
Furthermore, comfort dogs are trained to respond in disaster environments at a moment's notice. These crisis-response dogs are deployed to stressful situations where people may have experienced trauma. The aftermath of shootings or natural disasters can provide a need for these animals and their calming influence.
"If an emergency arises, the dogs may not be able to attend the visit as they are often deployed during times of crisis," Dvorak said.  "For example, Tobias (one of the dogs that visited on Monday) was sent to Parkland after the school shooting. Another dog that visited two years ago, was at Sandy Hook."
"I don't have a dog, so firstly I get really excited when I see one," says sophomore student Araha Uday. "I think students get caught up in their busy schedules and deadlines, and dogs just remind us to appreciate the little things. They are quite literally fluffy bundles of dopamine, which every student needs in my opinion." 
Unlike therapy dogs, comfort dogs are trained to respond quickly in rapidly changing situations. Comfort dogs are meant to respond to varying situations and environments accordingly and accommodate too many people. Therapy dogs are more of a one on one.  
"These are not therapy dogs.  Therapy dogs typically work with one individual and do not interact with others," Dvorak says.  So keep in mind that there are many types of services animals. 
Service dogs such as guide dogs are often "on the job" when in public and we are not supposed to walk up and treat them as pet or toy.  It is also important to remember that comfort dogs (or crisis response dogs) are not the same as emotional support animals that people sometimes carry into public spaces.  Emotional support animals may not necessarily be trained to interact with a group of strangers, so make sure to check with owners before snuggling up to that cute pooch you see at he store.
Seeking comfort from these animals is an effective solution to physical or psychological problems that you might be enduring.  Many people with a furry friend at home already know this, but now studies and research prove this to be a scientific certainty.
Total Views: 3684 ,