College Football Preview: Top games you need to watch in 2021
When the college football season rolls around every year, I often get asked "what games are you looking forward to this season?" My answer: usually a full list.
So with that in my mind, I went through the 2021 college football schedule week-by-week and selected games that are on my "must watch" list. Below are my findings.
Editors Note: Rankings are from the preseason AP Poll release 
Note: All stats used in this article were compiled from ESPN.com
Week 1: 5 Georgia v. 3 Clemson – – September 4th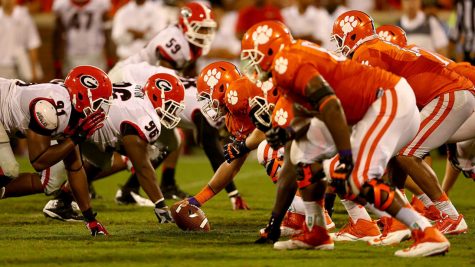 College football fans looking for a marquee matchup in week one of the season will receive what they wished for. A matchup between two top-tier programs that have their sights set on a National Championship.
A win for either team is the ultimate way to begin a resume. However, a loss will eliminate any margin of error for the rest of the season. Remember, we haven't seen a two-loss team make the College Football Playoff. 
Also considered: 1 Alabama v. 14 Miami (Fla.)
Week 2: 11 Oregon v. 4 Ohio State – – September 11th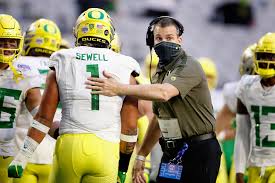 I often wonder; will we ever see a Pac-12 team in the CFP again? Well, Oregon is the Pac-12's only hope.
This game is more important for Oregon than Ohio State. Ohio State can afford to lose this game, unless it's not a blowout, and still be a strong CFP contender if they steamroll through the Big Ten. Oregon, on the other hand, can't lose this game if they still want a glimmer of hope to make the CFP. If they do, you'll see a lot of "the Pac-12's playoff hopes are already dead" everywhere. 
Also considered: 18 Iowa v. 7 Iowa State
Week 3: 1 Alabama v. 13 Florida – – September 18th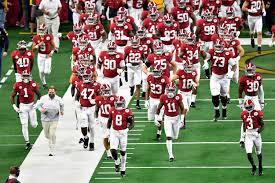 This will be Bryce Young's first road game at the helm of the Crimson Tide's offense and it'll be an ultimate test. It will be very interesting to see how Alabama plays under pressure, being this is the Tide's first ultimate test of the season. 
Last season, Florida's defense struggled ranking 85th in the nation in yards allowed per play. Something that 'bite them in the butt' during the SEC Championship. 
Also considered; 8 Cincinnati v. 17 Indiana
Week 4: 9 Notre Dame v. 12 Wisconsin – – September 25th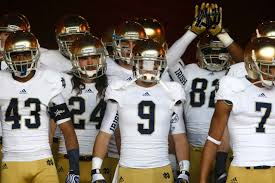 This is the first time in the college football season where we don't have a lot of headliner-type matchups.  
Notre Dame is coming off a season in which they surprised many people. First, upsetting the number one ranked Clemson Tigers at home, then, making an appearance in the College Football Playoff as the fourth overall seed. 
The Irish lost quarterback Ian Book to the NFL Draft and his replacement – Wisconsin's Jack Coan – won't be the team's difference-maker. Meanwhile, the Irish only have three offensive starters returning, which basically "limped to the finish line last season." 
Also considered: 16 LSU v. Mississippi State
Week 5: Ole Miss v. 1 Alabama – – October 2nd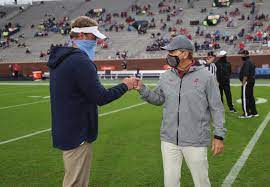 Outside of seeing the actual game, I'm excited to see how Lane Kiffen decides to poke fun at his old boss. 
While Ole Miss isn't a playoff team this season – and I'm 100% confident those words won't haunt me in the future – they are a compelling team to watch. That said, we all know Lane Kiffin will have something fun in store offensively for the Tide. 
Despite being an Alabama fan, I wouldn't be surprised if I see "Upset Alert" on my phone from ESPN the next morning. 
Also considered: 8 Cincinnati v. 9 Notre Dame 
Week 6: 1 Alabama v. 6 Texas A&M – – October 9th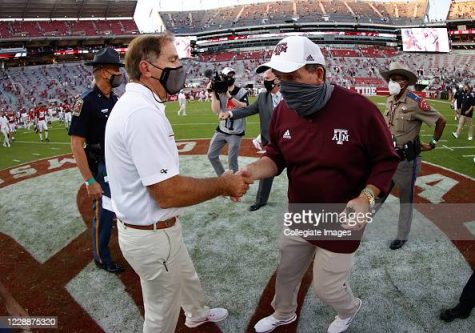 Wow. I didn't realize how many important games Alabama has on their schedule. 
Texas A&M last season finished just outside of the top four for CFP contention and are looking for that breakthrough year. But to do that, first, you'll have to beat the ultimate powerhouse of the SEC; Alabama. Then, they'll need to prove they can hang with the other powerhouses atop the polls. 
This would be another game I'd consider a possible "Upset Alert" 
Also considered: 2 Oklahoma v. 21 Texas
Week 7: 14 Miami (Fla.) v. 10 North Carolina – – October 16th
Games like UCF v. Cincinnati and Florida v. LSU are perfectly reasonable choices for this week. Instead, I'm going to turn my attention to a game that could decide a team's fate for the division crown and potential CFP hopes. 
With Notre Dame returning as an independent, we're still searching for Clemson's legit threat in the ACC. My two best bets: Miami and North Carolina. What a surprise! This all means the winner of this game will probably be gearing up to defend themselves in the ACC Championship. 
Also considered: 13 Florida v. 16 LSU; UCF v. 8 Cincinnati
Week 8: 22 Coastal Carolina v. Appalachian State – – October 20th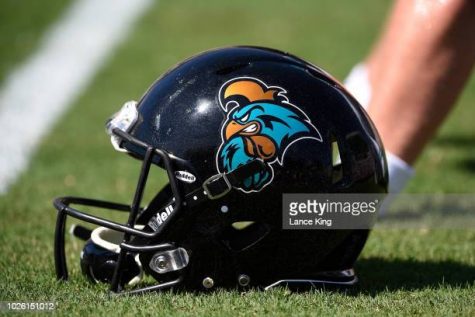 Coastal Carolina v. Appalachian State and not Ohio State v. Indiana?!?!?!? Yes – you read that right. 
Last season, many – including me – thought Coastal Carolina deserved more credit than given for their performance during the heated CFP discussions; along with Cincinnati to have the first non-Power 5 team to make the College Football Playoff. 
The Chanticleers' only roadblock this season of getting in the way of perfection will be none other than Appalachian State. App. State has the best chance out of all of Coastal Carolina's opponents to upset the Chanticleers. An 68.6% to be exact (per ESPN's FPI – – Football Power Index).
Also considered: 4 Ohio State v. 17 Indiana
Week 9: 5 Georgia v. 13 Florida – – October 30th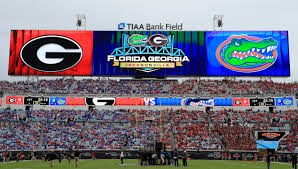 Every season these two teams play each other, always living up to the hype, regardless of the stakes. This season; the stakes are high – – very high. These are your two SEC East contenders, and it won't be easy to win your division if you don't win this game. This game also brings implications for a CFP spot later in the year. Regardless of how your opponent is doing, this is still a major resume booster.
Also considered: 10 North Carolina v. 9 Notre Dame; 19 Penn State v. 4 Ohio State
Week 10: 16 LSU v. 1 Alabama – – November 6th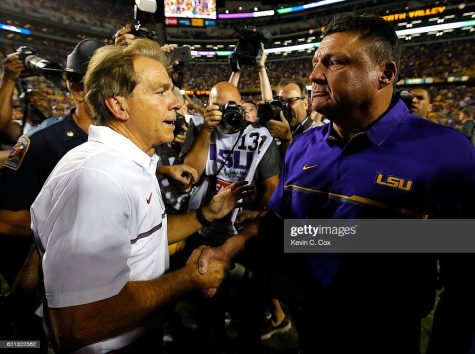 Yes, the Crimson Tide is on my list three times; but do I care? Nope! That's what you get when your football program is an ongoing dynasty, and defending National Champion. Despite all of this, I'll turn my focus to LSU for this one.
After a miserable 2020 season, LSU is hoping for a bounce-back year. The Tigers made some coaching changes in the offseason which were decided from the recent production of the team. Firing defense coordinator Bo Pelini and replaced former offensive coordinator Steve Ensminger with Jake Peetz. 
Throughout the full season, the Tigers will have to answer one question: Can they beat their primary threat Alabama? My unbiased, and 100% correct answer; it's not even close. 
Also considered: 21 Texas v. 7 Iowa State; 11 Oregon v. 20 Washington; 17 Indiana v. Michigan 
Week 11: 6 Texas A&M v. Ole Miss – – November 13th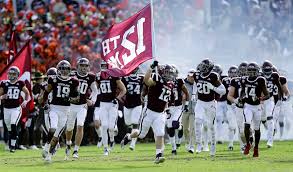 Very much like week 4, there aren't many games that catch your eye.
Like Ole Miss' week 5 matchup at Bryant-Denny Stadium, Lane Kiffin will have lots in store for Jimbo Fisher. 'Upset Alert' you may ask – – ubetcha!
Also considered: Michigan v. 19 Penn State
Week 12: 7 Iowa State v. 2 Oklahoma – – November 20th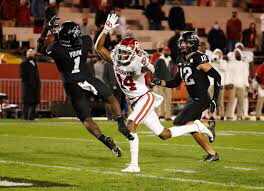 Iowa State learned it doesn't mean much if you beat the Sooners in the regular season but later lose the rematch. Just look at Texas for example. If the Cyclones are going to contend for a playoff spot, they'll probably have to beat Oklahoma twice. 
On the other hand, the Sooners are an overrated team in the AP Preseason poll in my mind. They haven't won a single game in their previous four CFP appearances. Everyone knows the CFP committee isn't afraid to leave out a conference champion if deemed necessary because there's a better suiter. Oklahoma is better off winning both meetings. 
Also considered: 11 Oregon v. 24 Utah; Virginia Tech v. 14 Miami (Fla.); UCLA v. 15 USC; Minnesota v. 17 Indiana
Week 13: 4 Ohio State v. Michigan – – November 27th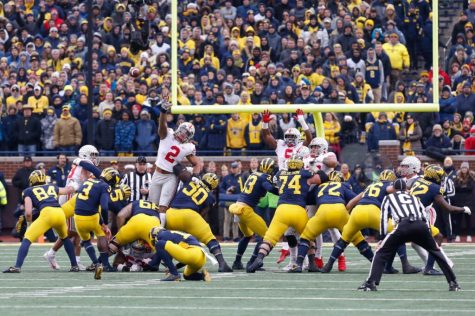 There's no shortage of great options for rivalry week. The Iron Bowl, The Egg Bowl, and even the final-week clash of Texas A&M and LSU. But there's no game better than The Game. 
Ohio State is almost annually in contention at this point in the season. You can't say the same about Jim Harbaugh and Michigan. Harbaugh's on the hot seat entering the 2021 season and the significance of this game is more than just a win or a loss in the standings. With Harbaugh's job status in jeopardy, a blowout loss would make Michigan's AD job very easy. Fire him. 
Also considered: 6 Texas A&M v. 16 LSU; 1 Alabama v. Auburn; 2 Oklahoma v. Oklahoma State; Ole Miss v. Mississippi State
With a full season of extraordinary games – which are worth watching – will we see Alabama reign supreme again? Or will a sleeper team take their spot? Guess we'll have to find out.
Total Views: 866 ,