Bracketology: The aftermath of the selection committee's first top-16 reveal and more
Something we all quickly learned after the selection committee released its top-16 seeds Saturday is after a couple of hours, they have already changed.
Florida wasted no time by upsetting No. 1 seed Auburn in Gainsville. Entering Saturday, the Gators were among the "First Four Out" group but boosted all the way to the top of the "First Four Out" group. Now many will say that's not much but let me share this with you – Florida has a better chance to slip into the projected field with continued success than Michigan.
UPDATED: FEBRUARY 21st — 12:00aET/11:00pCT
Through February 21st games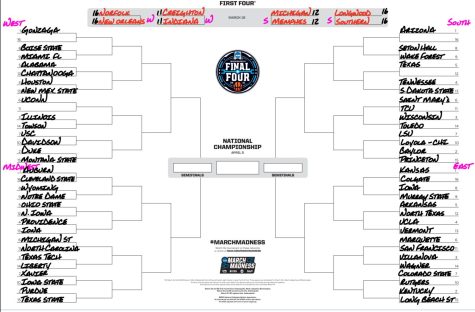 Rutgers comfortably in the field despite loss to Purdue
Rutgers joined the field last week as a bubble team. Now they're comfortably in the field. Why you may ask even with a loss to Purdue Saturday? The bubble. Since Saturday, we've had a complete turnaround of teams positioned on the bubble. Especially between the "Last Four Byes" and "Last Four In." Oh and one more, the "Next Four Out."
The rest of the Big Ten
Here are the top two takeaways regarding the Big Ten this past weekend:
Iowa (8-seed) picked up its biggest win of the season @ Ohio State (5-seed)
Michigan made plenty of news Saturday in their road loss to Wisconsin; still in the field as a bubble team
Michigan is on the edge of falling out of the projected field if they don't gather a few wins to close out the season. As I mentioned earlier, Florida has a better chance to take Michigan's spot, regardless of the Wolverine's result, because of their recent success. Historically speaking, three games above .500 isn't a good enough record to make the NCAA Tournament. Will the Wolverines headline the news again in late February/early March? Guess we'll have to find out.
Friday Bracketology Update
Usually on Friday's we have a full bracket update. Because of our early update this week, we will instead provide a full seed list update with the possibility of bracket notes for Friday evening.
Seed List — UPDATED: FEBRUARY 21st — 12:00aET/11:00pCT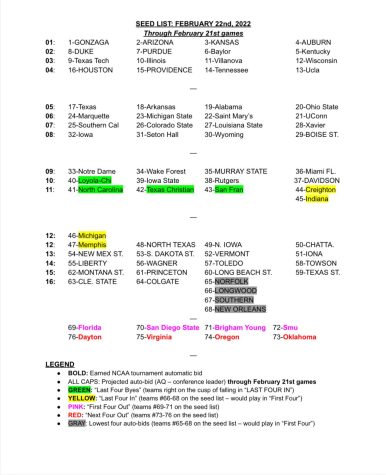 Total Views: 408 ,