Bracketology: As Champ Week begins, the field slowly starts to take shape
After a week in which the top six teams in the country lost on the same day, the last weekend of the 2021-22 regular season brought a little less drama. And with Champ Week beginning Tuesday, there is sure to be a major shakeup in the projected field from now to Selection Sunday.
With that being said, we will have a fresh update for you on Friday. So, without further ado, let's take a look at our latest bracket projection from our lead bracketologist, Jason Williams.
UPDATED: MARCH 7th — 12:00 am ET/11:00 pm CT
Through MARCH 7th games
NOTE: Teams in BLUE have punched their ticket to the NCAA Tournament as of MARCH 7th (12:00aET/11:00pCT)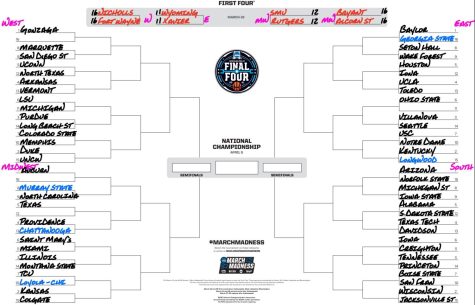 Tickets Punched
A total of five tickets have been punched for the NCAA Tournament. Murray State (OVC), Longwood (Big South), Loyola-Chicago (Missouri Valley), Georgia State (Sun Belt), and Chattanooga (Southern).
Loyola, a team who entered Sunday firmly on the bubble, erased that concern by beating Drake in the Missouri Valley Conference Tournament championship.
Longwood will make its first NCAA Tournament appearance after winning the Big South championship over Winthrop, Sunday.
Two more bids were taken Monday night as Chattanooga beat Furman on a buzzer-beating three-pointer in OT during the Southern Conference championship, while Georgia State beat Louisiana in the Sun Belt title game.
How will Champ Week impact the bracket?
Many people think conference tournament games hold more value than regular-season games. Well, sorry to break it to you, but conference tournament games are no more important to the selection committee than regular-season games.
For teams who are specifically on the bubble, however, picking up quality wins on a neutral court is always a good thing to add to your resume.
As we said before, there is sure to be a major shakeup in the projected field from now to Selection Sunday. So don't be surprised if you see a handful of upsets this week.
Seed List — UPDATED: MARCH 7TH — 12:00aET/11:00pCT 
NOTE: Teams in BLUE are playing today/tonight (MARCH 8th) — this includes Saint Mary's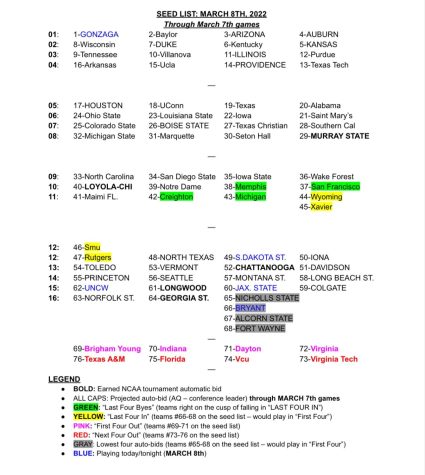 Total Views: 470 ,