SHS Leaders of Tomorrow Convey Message of Unity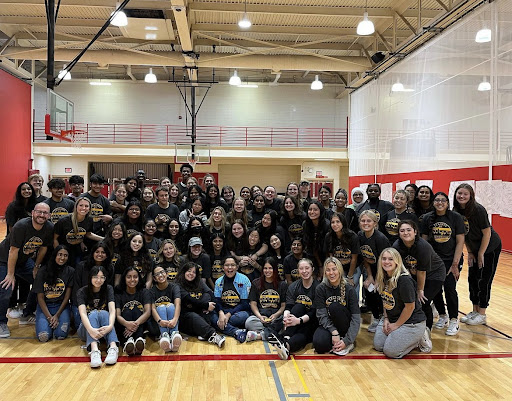 Ms. Kahan and Mr. Swolsky are on a mission to bring the student leaders of SHS together for the development and connectivity of our clubs. To achieve this, they decided to establish "Leaders of Tomorrow," a culmination of motivated students who have exemplified leadership qualities in and outside the classroom. 
These bright scholars come from various backgrounds and are involved in different extracurriculars around SHS. Rather than a separate club, the Leaders of Tomorrow act as a glue, striving to bond our community together. They hope to make our school a more diverse and positive environment through engaging activities and inclusivity.
Recently, the team set out for Gratitude Week, where they helped spread kindness through a gratitude tree, adorned with appreciative messages and shout-outs written on autumn leaves. "The Burg" also participated in this event with the release of a gratitude video to conclude the week.
As the new addition to the school, Leaders of Tomorrow plans to collaborate with other clubs in order to strengthen volunteer services, awareness, and student involvement. 
"The emphasis is on the power of working together. This is the foundation to encourage leaders and their respective clubs, teams, and classmates to engage in initiatives and events that unite SHS throughout the school year," Ms. Kahan says.
With an array of involved and ambitious students, the Leaders of Tomorrow are able to reach every social clique of the school, coming together to reach common goals without social barriers. 
"The leaders had fantastic ideas on the topics of unity, gratitude, inclusivity, kindness, club connections, acceptance, mental health awareness, diversity, and passion," Ms. Kahan shares, "We've already done gratitude, so our goal is to focus on another one of these topics during this school year."
Leadership skills developed through this program will serve students throughout their future education and careers, ensuring strong morals and genuine passion.
"Leaders of Tomorrow is an amazing gateway to more leadership opportunities at SHS! You don't need any qualifications except dedication and passion," said Ev Park, a Junior and zealous leader. 
With the minds and charisma of the leaders, SHS is headed towards an exciting future, one where the student body is not divided by social categories but connected through common aspirations of success and advancement for our school.
Total Views: 868 ,