Bracketology: Kansas begins 2023 as top seed; Purdue, Alabama, and Tennessee follow
I've waited nearly 10 months to say this; Bracketology is officially back!
Since our last bracket update, March 8th, 2022, all I can say is they don't call it March Madness for nothing.
With our first bracket of the 2022-2023 season, here are the key considerations for selecting teams:
NET (NCAA Evaluation Tool)
Quad Victories
SOS (Strength of Schedule)
SOR (Strength of Record)
Quality Wins
Losses
"Quality Losses"
So without further ado, let us jump into our first bracket update of the 2022-2023 season.
Please note before continuing – This year, we are trying out two new formats for our brackets. Please be patient with us as we work to make this process smoother.
UPDATED: JANUARY 10TH — 12:15aET/11:15pCT
Note: Ipad, iPhone, and computer users are able to zoom in for better quality. A PDF version of this week's bracket is linked here.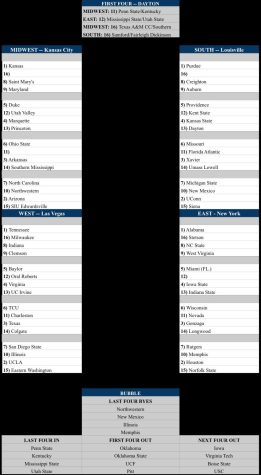 Here's a look at the top overall seeds on the No. 1 one in this bracket, shall we?
No. 1 overall seed, Kansas (Midwest) — After picking up back-to-back road wins against Texas Tech and West Virginia, Kansas looks like they're capable of repeating as national champions. Bill Self's much smaller and more versatile roster led by national player of the year candidate Jalen Wilson and KJ Adams, is setting up the Jayhawks for a repeat as Big 12 champs. Oh and before I forget, Kansas is 14-1 with a nation-best six Quadrant 1 victories (among them road wins at Missouri, Texas Tech, and West Virginia.) 
No. 2 overall seed, Purdue (South) — To make things short and simple, just the way I like it, here's the case for Matt Painter's Boilermakers. Purdue is 15-1 with the nations-best five wins over teams in the top 25 at KenPom.com — among those being Gonzaga, Marquette, and Ohio State. Oh, and before I forget, Purdue has Zach Edey. That's all that needs to be said.
No. 3 overall seed, Alabama (East) — In my week 10 college basketball top 25 poll, Alabama sits atop that list. Yes, Houston is No. 1 in the newly released AP Poll (January 9th), and Kansas is our No. 1 overall seed but they aren't the best in the nation right now. The Crimson Tide's performance Saturday (Jan. 7th) was led by their explosive defense that has returned after falling off a cliff in 2021. Saturday, they held Kentucky to its fewest points per possession since 2012, according to KenPom, allowing 52 points on 68 possessions. Nate Oats' freshman-led squad will be ready to make yet another statement Wednesday night with a showdown at No. 15 Arkansas, and then again Saturday against LSU. 
No. 4 overall seed, Tennessee (West) — Tennessee sits at No. 2 at KenPom.com, No. 2 in the BPI (Basketball Power Index), and No. 2 at Sagarin. Much of Tennessee's recent success has been driven by their explosive defense, similar to conference foe Alabama. They have been elite at contesting shots inside and out all year, ranking No. 1 in 3-point percentage defense, and they force turnovers at a top-five rate nationally. This Tennessee squad that Rick Barnes has is scary.
Total Views: 996 ,