SHS's Crazy For You Has A Crazy Good Run
After two and a half months of rehearsal, Schaumburg High School's yearly musical opened to huge crowds and thunderous applause on April 20th.  
This year's musical, entitled Crazy For You, was an exciting production.  Written by George and Ira Gershwin, the show features mistaken identities, singing cowboys, and a whole lot of tap dancing.  Put all of these together, and it makes for a hilarious musical comedy rife with jazzy music and extravagant set pieces.  
At the center of it all is a touching love story between the two unlikeliest of people.  One is Bobby Child (Chris Mininni), a New York banker and theatre lover, and the other is Polly Baker (Emily Rose), a small-town postmistress and "All-American girl."  Viewers may recognize these two as Bert and Mary Poppins and, more recently, John and Elizabeth Proctor. Their "will they, won't they" relationship drives the plot and keeps the audience engaged.  The love story combined with the great music, impressive dancing, and fantastic sets already made the production something to behold; however Schaumburg High School's talent brought the show to new heights.
One of the biggest challenges for the actors was the strong physical comedy required for the show.  Actors fell, fought, and slapped each other in the face all through the show.  In one scene, Bobby Child and another character get drunk and start mirroring each other's actions, leading to a hilarious bit that required strong comedic timing from both actors.    
"I loved the bar scene because our physical comedy had to be so in sync that it became a super fun and challenging scene," said Chris Mininni..
Crazy For You also boasted a large ensemble of glamorous showgirls, gunslinging saloon-goers, and a singing cowboy trio.  One particularly funny character was the saloon owner, Lank Hawkins.  Played by freshman Liam Pietrzyk, the character served as a hilarious antagonist to Bobby and Polly's love story.  "If I had to play another character aside from my own, I'd have to say Lank because he is such a funny character who has some really iconic lines," Chris said.  Liam and the cast really had a great chemistry together and raised the production to a whole other level.
Behind every great show is a great team of faculty, tech crew, and pit musicians, and Crazy For You is no different.  Directors include Mr. Inendino, Mrs. Alexander, Mr. Sully, Mrs. Tipps, Mrs. Espel, and Mr. Kirby.  The theatre department also brought in Mr. Brett Baleskie and Jonathan Cunningham, who choreographed and blocked the show, and Mrs. Patti Halajian, who costumed the show.  The costumes for this show were particularly stunning, as they contrasted the glittery highlights of 1920's New York City fashion with the dirty and grungy themes of Deadrock, Nevada.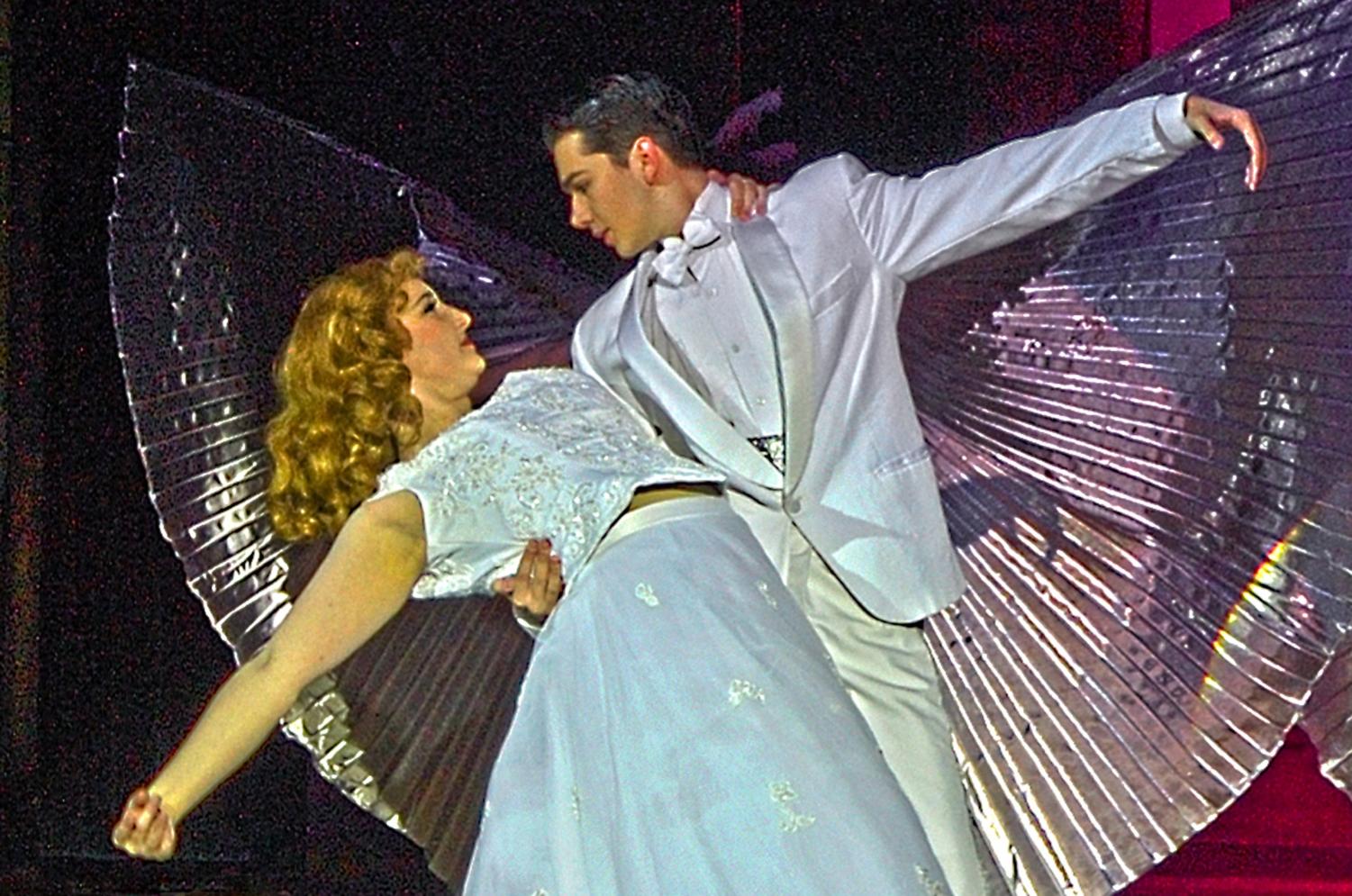 "My favorite part of the rehearsal process would have to be getting the costumes. It's when the show really starts coming to life and gives an extra push into really getting into character," Emily Rose said.
Schaumburg High School's production of Crazy For You could win five different awards at the Illinois High School Musical Theatre Awards.  The categories included Best Performance in an Actor Role and Best Performance in an Actress Role for Chris Mininni and Emily Rose respectively.  With Schaumburg High School up against around 70 other schools, the competition is fierce.  Luckily, Crazy For You was a great success and will hopefully win every award possible.  Since the musical was the last show of the year, the next show will be the improv show next fall.
Total Views: 1254 ,