Guzman and Gomez Offers a Fresh Spin on Mexican Cuisine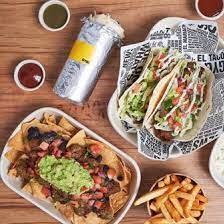 When the average person thinks of Mexican cuisine, images of steaming tacos, creamy guacamole, and crisp chips all come to mind. While these images are seen throughout popular chains such as Taco Bell and Chipotle, the new restaurant Guzman and Gomez delivers all of these dishes and more in their fast casual Mexican kitchen.
Providing an updated take on classic recipes, the eatery focuses on organically sourced ingredients and biodegradable packaging. Even just scrolling through their Facebook page, I found several videos about where their produce comes from, from the potato grower to the fry cook.
Located on Golf Road in the place of various failed Greek restaurants, Schaumburg hosts the second U.S. location of the popular Australian chain. Founder and CEO Steven Marks wanted to bring his vision to the states, elevating traditional fast food with fresh ingredients and quality service.  The restaurant is particularly well located, as its drive through provides easy access, drawing attention to their superior business model.
When I went there on a snowy Tuesday afternoon, I found myself instantly drawn to the bright yellow tiled interior. Filled with vibrant art and dynamic lighting, the restaurant had a warm and inviting environment. The staff were all courteous and kind, moving quickly to get our order finished. 
I started my meal of sorts with a glass of iced horchata. For those who don't know, horchata is a cinnamon-spiced milk, which is blended with soaked white rice. The best way I've heard it described is as "cinnamon toast crunch milk." Considering myself somewhat of an expert on horchata, the drink in question boasted a delicate cinnamon flavor, though I would have preferred further straining as I found myself chewing on grains of rice throughout the drink.  While the texture was off putting, the flavor delivered on all fronts. 
Next, I dug into my order of corn chips and house guacamole. The chips were thick and crispy, fried without being overly greasy. They were sprinkled with flaked sea salt, which delivered a much-needed seasoning to the chip by itself. Then came the guacamole, which was perhaps one of the best versions I've had. The avocado was smooth and creamy, seasoned generously with lime and salt. My favorite part was the chunks of onion and tomato mixed throughout, which gave the dip textural interest and a hint of brininess. 
I finished off my midday meal with a fresh churro and chocolate dipping sauce. The churro was dressed in copious cinnamon sugar, which filled the grooves of the fried pastry and created a crunchy, sweet exterior. The chocolate sauce left me pleasantly surprised, carrying a deep chocolate flavor that when mixed with the churro reminded me of Mexican hot chocolate. 
In short, Guzman and Gomez is a must try for anyone in the area. Having the dual purpose of a drive through and dining area, the restaurant is a great choice for nachos with friends or a hands off family taco night. Carrying accessible options for vegetarians, vegans and even children, their fast, casual style paired with fresh ingredients and authentic recipes is sure to be a crowd pleaser for anyone and everyone. 
Total Views: 714 ,