"Clue" a Murderous Success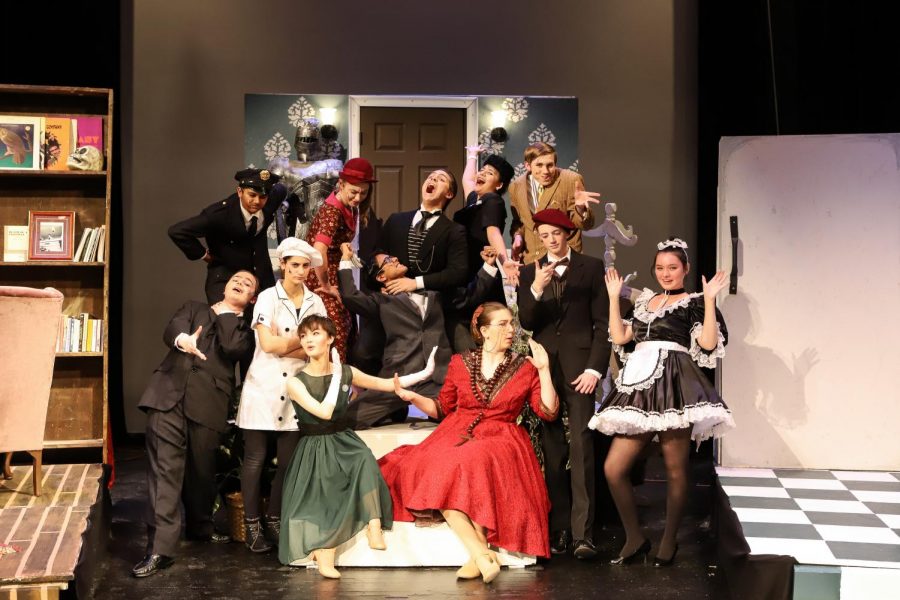 Can a board game become the plot of a play? That's the case for Clue, a hilarious murder mystery, which SHS Theater performed on November 21, 22, and 23, in the auditorium. 
Based on the popular board game Clue, this murder-mystery-comedy starts at a dinner party hosted by Mr. Boddy, or who we are led to believe is Mr. Boddy. His guests are Mrs. Peacock, Miss Scarlet, Mr. Green, Professor Plum, Mrs. White, and Cornel Mustard. When "Boddy" ends up murdered, all the guests are suspects, and together they have to try to figure out who the killer is. But are any of the characters really safe? 
It may seem that a show based on a board game would be, well, boring, but it definitely was not. This play was filled with physical comedy, jokes, and wit. 
"The show is incredibly funny and entertaining," said Madeline Hutchinson playing Mrs. Peacock. "Even during the table reads, we laughed every few minutes because there are just so many jokes." 
 This show was definitely not one to miss, and it wasn't just the humor. The actors put hours into the show and the results showed. 
"It's one of the better shows we've put on, because we put a lot of effort into it," said Josh Holmberg. 
Students had to audition at the beginning of the year to be cast in the show. Since then, the cast had been hard at work to put on show consistent with what SHS has come to expect from the theater department.
"I decided to be a part of the show because I knew it was going to be a lot of fun from the beginning," said Brandon Saam (Colonel Mustard).  Saam added, "The best part probably is the high energy. It's a lot of fun." 
The show has had a lasting impact on the actors and those in tech; it fostered friendships and a great community. 
"All of the actors are really funny and the people are nice too. The show is just really fun to help with," said Ally Gilley. 
The show didn't come without its challenges though, as the cast and crew had to overcome time, space,  and commitment constraints. The set and tech crews had to devise a way to create a set with so many rooms. In the end, the performance moved from location to location forcing the audience to imagine each as a separate room. 
"Not everything runs smoothly, and we all have our bad days, but overall, everyone here makes it better. It's honestly a family production," said Gilley. 
"It's all about putting on a fun show and  about building community. Also about the murdery stuff, though," agreed  Holmberg. 
In the end, the performance entertained SHS for a run of three days. The audience was treated to high energy and live music, with performances sure to be remembered. 
"The show was about having fun and getting to do something totally crazy that you can't do anywhere else other than theatre. You get to do fun and crazy things on stage," said Hutchinson. 
Auditions for the SHS musical and spring play are happening soon, so if you were inspired by "Clue," come out for auditions. 
Total Views: 1276 ,