Row the Boat: Not just a name but a perspective on life
Being a high school student is difficult. Sure, I have a lot of opportunities, demands, and challenges surrounding me, but so much of my life is ahead of me. It's difficult not to get too far ahead of myself, thinking too far into the future, though. 
I think that is probably true for most of us. I remember as an underclassman, it was hard to resist looking ahead to junior and senior year: preparing for the SAT test, searching for colleges, and deciding what I want my future to be. Should I go to a four or two year college or university, trade school, or work full time? Now that I'm there, I'm just anxious to move onto the next stage and take my steps into the freedom of adulthood. 
But, looking too far into the future has consequences which causes additional stress, worry, and anxiety. I know it's important to be in the moment to achieve personal goals, but I'm not always sure how to center myself, to remain mindful of the here and now.  But I may have found an answer.
While searching for information on P.J. Fleck, the current head football coach at the University of Minnesota, I came across something called "Row the Boat" which has impacted how I view life. "Row the Boat" is an inspiring message about what you can achieve when you approach life with a never-give-up philosophy.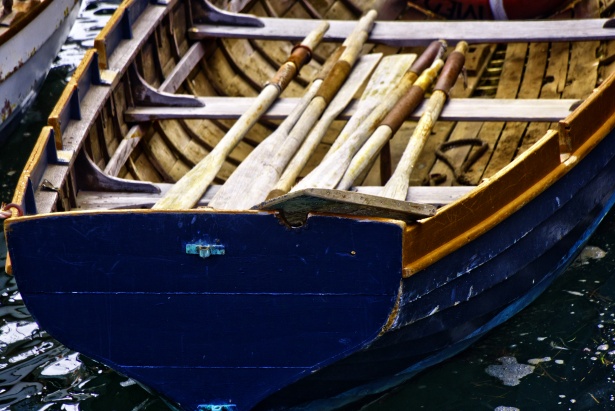 There are three parts to rowing a boat. First you need an oar, and this is the energy you bring to your life. You determine if you keep your oar in the water or you take it out and decide not to use it.  An oar, however, won't work unless you have a sturdy boat. The boat represents the sacrifices you're willing to make to be successful in life. The more you serve, give, and help others, the bigger your boat gets. And last but not least, we need a compass so we know where we're going. The compass is the vision you have for your life. The people you are surrounded by will help create the path your life will take.
"Row the Boat" has motivated me to either take action or forgo it. This has motivated me to be a better person and leader. My oars control my energy to accomplish things in life. My mom has always told me "you have to be on the straight and narrow" — meaning I need to focus on staying on the correct path — to accomplish my goals, and the only way to do that is to accomplish what is right in front of me and not worry too much about looking to things that aren't in my immediate control. There will always be obstacles along the path; people trying to poke holes in my boat, throwing you overboard. This shows the importance of "you can't always control the circumstances of your life, but you can control your perspective and how you react to those circumstances." ("Row the Boat": A Never-Give-Up Approach to Lead with Enthusiasm and Optimism and Improve Your Team and Culture)
Whenever we implement something new into our lives, there are always struggles. And oh boy I had plenty of these. 
When working on things, I have the tendency to look too far ahead into the future, always worrying about what I have to accomplish and thinking, "I won't have time to do anything I truly want to do." I get stressed when I look at a project, and I see I'm at point A and I need to get all the way to point Z. My propensity is to rush through everything just to get it over with regardless of the end result is. All I'm happy about is the fact that I'm done. What I needed to do is pause, take a step back and assess the situation. Robert Lloyd once said "slow and steady wins the race" after all.
In order for me to continue to use this mindset beyond high school, I must be determined and keep my eye on the prize. And, if I am determined and stay on the course of success, surround myself with people that have similar paths and success stories, I will have the ability to accomplish my goals even more efficiently. Row the Boat everybody! 
Total Views: 1720 ,