Williams: How Saturday's madness impacted our NCAA tournament bracket predictions
While I was sitting on my couch watching college hoops Saturday afternoon, I had to check my phone on multiple occasions to make sure it didn't say "March." 
Each of the top six teams in the AP Poll lost Saturday, the first time ever in the history of the poll's existence. And one more record was broken Saturday too – a total of seven teams in the AP Poll top 10 lost. 
Many asked me, "what does this mean from a Bracketology perspective?" Sometimes, when everyone loses, nobody loses.
Note: A number of pertinent questions were compiled from ESPN.com with some paraphrasing involved

Who are the projected No. 1-seeds after the dust settled Saturday?
Entering Saturday's busy slate, our one seeds – Gonzaga, Arizona, Kansas, Auburn – all had major road games in hostile environments. Fast-forward to the conclusion of the Gonzaga game, the top line of our seed list looked like a red Christmas tree. Only one team within the top 2-seeds won and improved their seed – Baylor. The Bears began sixth overall and ended fourth overall.
Does Gonzaga's loss to Saint Mary's impact its standing as the No. 1 overall seed – or did anyone shrink the gap on the Zags? 
"Sometimes, when everyone loses, nobody loses." Gonzaga ended up right where they started, No. 1 overall. Arizona's loss to Colorado – a noncontender for an NCAA bid – hurt them as they slid to fourth overall on the seed list. Kansas moved to second overall even with its loss to Baylor. Gonzaga still has breathing room but only time will tell when that gap shrinks.
No. 7 Duke ended up as the highest-ranked team to win Saturday – and looked impressive doing so. What does its result, coupled with the chaos above the Blue Devils, do for their bracket standing?
Yes, Duke didn't just win, they did so on the road and in impressive fashion. But let me get something straight – the ACC is weak this season. And because of that, regardless of how well Duke plays down the road, you won't be seeing the Blue Devils as a 1-seed come March 13th.
What do the top seeds and bubble look like after a crazy weekend of hoops?
I'm glad you asked. Below are the updated top seeds and bubble after the historic weekend of college hoops.

Bracketology Top Seeds and Bubble 
UPDATED: FEBRUARY 27th — 10:00pET/9:00pCT
Teams in BLUE are scheduled to play Monday, February 28th, 2022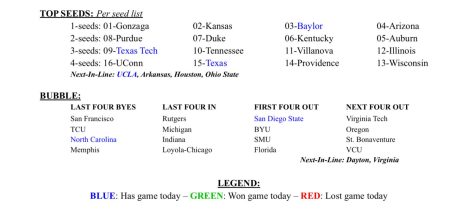 Total Views: 540 ,