A Look Into Tomorrow!
On September 14th, 2022, students had a chance to visit the International Manufacturing Technology Show also known as IMTS. Held every year, the convention for aspiring engineers and designers promotes robotics, mechanical engineering, programming, laser printing, 3D printing and more.
IMTS isn't just a show for high school students but also for college students, employees and people interested in the technological industry. It's a show that can amaze anyone, from a kid to their parents to even their grandparents. There's so much new technology that's being made around the clock that will serve to inspire future generations of engineers.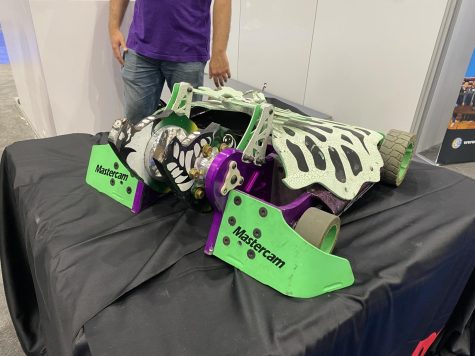 Students arrived early in the morning and were immediately astonished to see how many booths and huge engineering companies there were. We got to see so many different and interesting companies such as Transfr; a company that specializes in making virtual work spaces that help train employees. Companies like Mastercam who make battle bots to fight in arenas.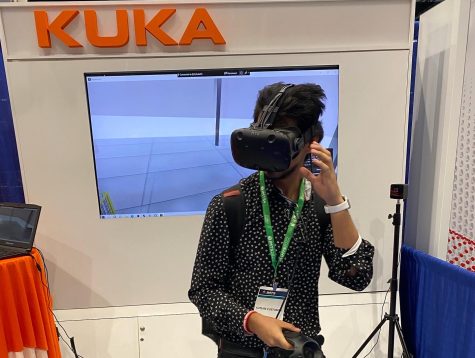 While I was at the KUKA booth, I was extremely intrigued by the VR (virtual reality) workplace. As I was taking some photos, they offered to let me try it out; I couldn't pass up the opportunity. I loaded up the headset and the technology was amazing, it was a demonstration of an actual workplace, complete with an advanced and immersive environment. Although I didn't know how to use the virtual reality headset at first, the member at the booth was more than happy to guide me through the process.
There were so many groups who demonstrating and displaying new and interesting technology. Among them was  the Haas booth, and we have a Haas CNC (computer numerical control) machine here at Schaumburg, so I was eager to speak to Ron Ladubec, an expert at Haas.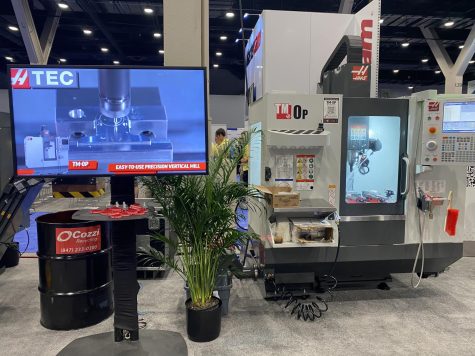 For anyone unfamiliar with them, HAAS is a company that was started by Gene Haas 1983. What was then a small company then expanded into a giant enterprise when in 1987, they began developing its first Vertical Machining Center. Then in 1988, they revealed their prototypes at IMTS, around 34 years ago to this date.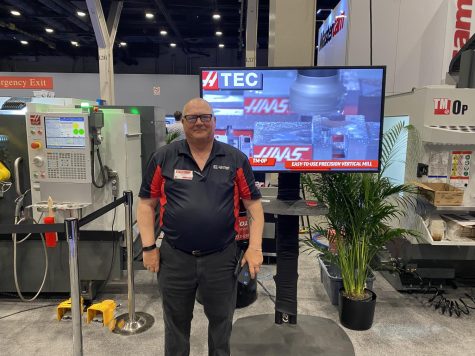 Scribe: You help represent Haas but, how did you get a start in the CNC line of work? What made you interested?
Mr. Ladubec: So I just did general maintenance at a machine shop and in 2006, I moved to the Haas factory outlet in Milwaukee. In 2016, I became the preventive maintenance manager at our Haas factory outlet and in June of this year, I took a sales position. 
Scribe: Do you think IMTS will help inspire kids to pursue work in the line of engineering?
Mr. Ladubec: It definitely will. If you're not gonna look at engineering or machine tools, you should at least be looking at the trades. The trades are what built America. By trades I mean, welders, plumbers, electricians, millwrights, machine tool people. Just a big Google search of the trades will get you what you need. 
Scribe: Do you think we will see a decrease or increase with employment working as a CNC engineer in the upcoming years and why?
Mr. Ladubec: I believe that we've seen a decrease in machine tools and trades in general over the years. I think as a whole, as a community of schools and workforce, we haven't done a good enough job of promoting it. 
Scribe: Do you believe the CNC market will open up as we advance more and more into the future? 
Mr. Ladubec: Absolutely. CNC is everything, from the little knob on the end of your shoelaces to your glasses to your cellphones to your cell phone holders are all done with a CNC at some point. 
Scribe: What do you recommend to the students who want to pursue engineering? Any tips? Notes that you want to give them?
Mr. Ladubec: If you're gonna do engineering, I suggest you try and get with a partner that'll give you an apprenticeship and pay for some of your schooling. 
Scribe: Do you have anything to say to the kids who might be interested in engineering but aren't sure if it's right for them?
Mr. Ladubec: Get out there while you're still in school and find a partner and ask them if you can work for them and see if you like it. Most of the times they're gonna pay you a very good wage and you're gonna be able to tell if you like it and still make some money.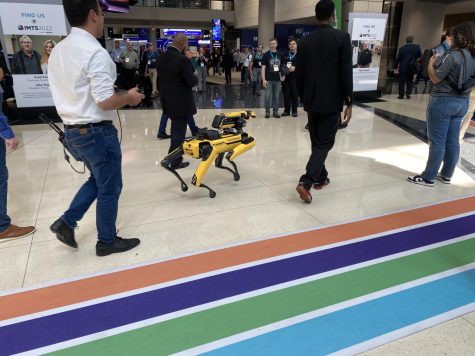 The ITMS convention as a whole, will inspire future generations of engineers. If these crazy inventions don't capture your imagination, nothing will! I highly recommend you visit next year, even if you don't like technology or engineer. You're gonna love it.
Total Views: 846 ,