Schaumburg wins conference opener against Fremd
SCHAUMBURG, IL — A variety of things were on display at Friday night's game in the main gymnasium of Schaumburg High School between the Fremd Vikings and the Saxons. 
First, Coach Jason Tucker's new offense led by sophomore guards Jordan Tunis and Javonte McCoy, as well as big man Edvin Bosnjak. 
Second, the unveiling of the Saxons new white home uniforms that featured the school colors of maroon and gold. 
And finally, the new video board that unexpectedly went out of service midway through the Fremd-Saxons varsity girls game, which Fremd won in dominating fashion 61-43, but after some work, it turned back on for the second half of the boys game as the gents went on to win a 55-53 thriller.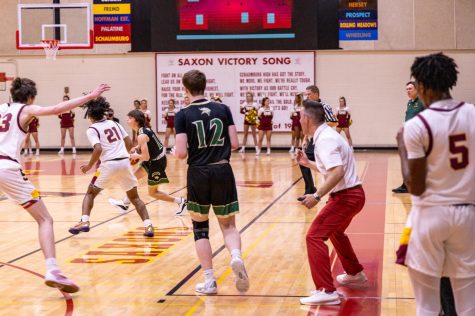 "It was a great feeling," Tucker said after a heart-pounding first home victory. "I'm really proud of my young team. We did a great job of finishing against a very good, well-coached team."
That effort started for the Saxons (3-2, 1-0) after Fremd's Ryan Cox drained one from downtown that pulled the Vikings within two (27-25), 90 seconds into the second half. 
It was Jordan Tunis' two baskets he drained from beyond the arc followed by both Javonte McCoy's big layup in the paint surrounded by Fremd's giants, putting Schaumburg up 35-27 with 4:50 left.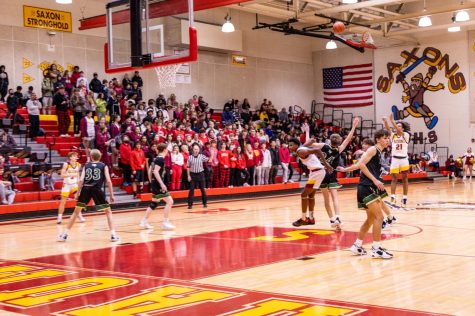 Schaumburg's lead grew to 39-28 when Tunis connected with senior guard Matthias Mackrie for a 3-pointer. McCoy then followed Mackrie's basket with another aggressive layup. 
After junior guard Michael Tancredi's three-pointer extended their lead to 47-38, Fremd (3-2, 0-1) responded with a rally of their own, draining back-to-back three's by Cox (who scored the team-high 15 points) followed by two huge free throw makes by Mark Braun that put the Vikings within a possession,  47-44. 
And with just nine ticks left on the clock, Cameron Kuhl converted at the charity stripe to bring them within two, setting up an opportunity to win at the buzzer but Cox's game-winning three hit the front of the rim.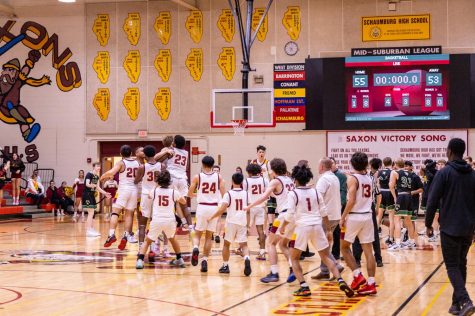 Ryan Sammons snared the rebound and put up a 15-footer that went in but unfortunately for the Vikings, it was deemed by the officials to have gone in after the horn sounded.
Schaumburg's Tunis led the way for the Saxons with 25 points and six made three-pointers followed by McCoy's 11 total points while going 5 for 6 from the free-throw line. 
"Our coaches prepared us well for tonight and we watched good film," Tunis said. "Then we did what we needed to do to win. It's a good start but we got to put this behind us and get ready for our next game."
Up next for the Saxons is a matchup against Wheeling (3-3, 0-1) Tuesday night at home with a tip time of 7:00p.
Total Views: 1292 ,