Bracketology: Gonzaga's struggles continue; Houston rises
After a busy week of college hoops, we're back at it with another Bracketology update. 
This week there are a few additions to the bracket. You'll see next to the seed line, the team's recent trend. A green arrow indicates they've risen on the bracket to a different seed line, a red arrow indicates a fall, and a pink plus indicates a new team in the field of 68.
Note: AP Poll ranks mentioned are from the December 6th poll release
UPDATED: DECEMBER 6th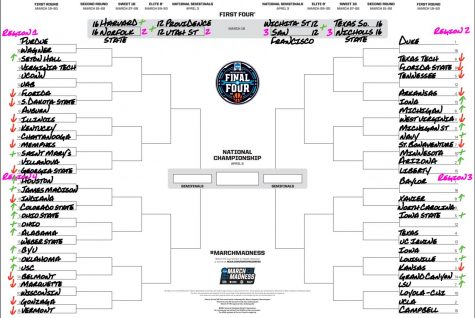 In my 11.29 Bracketology update, I said "I think now is a good time to say Purdue is real." Well, I'm going to adjust those very words. If you haven't hopped onto the Boilermaker bandwagon, you're officially not paying attention! We've seen in previous seasons that it's extremely unlikely that a new No. 1 overall seed stays atop the bracket and remains unbeaten. But who knows, this could be the team that takes Purdue to its first Final Four since 1980. The Boilermakers will go on a two-game road trip before our next bracket update against Rutgers (Dec. 9th) and NC State (Dec. 12th).
Duke is coming off their first loss of the season Tuesday, dropping them to Region 2, when Ohio State stifled the Blue Devils in the second half and came back from a double-digit deficit. The Blue Devils have some issues which need their attention. Specifically their 3-point shooting. Duke is shooting 33% from beyond the arc (per ESPN Stats and Information), which is a familiar flaw among top bracket teams. The Blue Devils begin a four game home stand, starting on Dec. 14th vs. South Carolina State. 
Baylor is entering the week in a comfortable position — a 1-seed in Region 3. And after an easy start to the schedule, things get turned up a notch this week, with Villanova coming to town on Sunday and then a trip to Oregon State next Saturday. If Kendall Brown and company can put enough pressure on Nova, they'll be able to squeak a win out.
And to round out the 1-seeds for this week, it's the sleeper; Houston. The Cougars made the jump from the 3-line with a Gonzaga loss to Alabama and major movement within the top four lines. Now I say "sleeper [team]" because many don't talk about the success Houston's had. Yes, they have a loss, which is categorized as a "quality loss," to Wisconsin (10 seed — Region 4) but the Cougars' have proven they have one of the nation's best defenses. A key game upcoming for the Cougars is on the road in Tuscaloosa when they face the No. 9 ranked Crimson Tide (Dec. 11th).
Bracketology Top Seeds and Bubble
Note: Top seeds are directly from the seed list

On the Rise
The teams listed below were on the rise from our previous Bracketology update:
Houston (Now: 1-seed — 11.29: 3-seed)

Michigan State (3-seed — 6-seed)
Fading Fast
The teams listed below are falling fast on the seed list:
Memphis (Now: 7-seed — 11.29: 3-seed)

St. Bonaventure (7-seed — 4-seed)

Illinois (11-seed — 8-seed)
New Additions
The teams listed below are new teams that have entered the projected field of 68:
Iowa State (5-seed)

Saint Mary's (10-seed)

Minnesota (10-seed)

Louisville (11-seed)

Oklahoma (11-seed)

Providence/Utah State (12-seed play-in game)

Wichita State/San Francisco (12-seed play-in game)

Ohio (12-seed)

Navy (14-seed)

Grand Canyon (14-seed)

Harvard (16-seed play-in game)

James Madison (16-seed)
Total Views: 1336 ,