Cheer Season Ends with Conference Championship
Lofty goals are nothing new for Schaumburg cheer and not even a pandemic can dampen expectations for the 2021 team.  With only four competitions scheduled, the Saxons wrapped up competition season with astounding success.  
With top ten finishes in all four competitions, the Saxons' record includes two first place finishes at the Xperience Challenge, where the team posted a season high score of 92.67 and a first place finish at the Mid-Suburban Conference Championship. 
Like all high school sports in Illinois, the SHS cheer team had to reinvent itself and engage in entirely new forms of preparation. Coaches held virtual summer practices on zoom, interacted with guest speakers, held small group workouts and open-gyms, and even performed for the virtual variety show all in an attempt to keep themselves in peak conditioning. 
Coaches worked to navigate fluctuating IHSA rules, emphasizing program values, increased skill, and working to meet team goals. 
"Our biggest challenge was the pause that was put on our season back in November," stated head coach Whitney Gbur. "We had just learned our choreography and we were excited at the chance to get our bodies back into full cheer shape. Within days, this opportunity was taken away and we had to stay focused for over two months during the pause."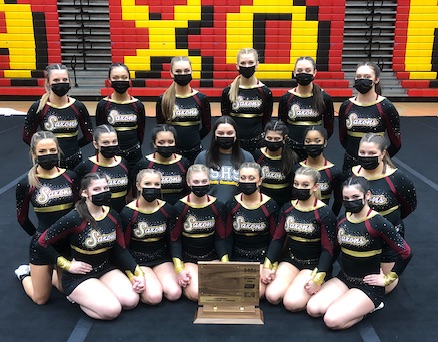 Once the season began, the team had to adjust routines to new IHSA rules. Because new rules stated that teams can no longer stunt in routines, the team focused on improving their tumbling skills and making sure routines were synced and flawless. 
"I am most proud of the team for winning the MSL conference competition for the first time in the school's history, but, behind the scenes, I'm even more proud that the team stayed committed to each other and our vision," said Coach Gbur.  "Winning conference wouldn't have been possible if we didn't stay connected and invested when it was most difficult."
"If every single person stays positive and keeps putting in 100% effort I know we can still be successful despite the
obstacles and setbacks because of how dedicated we all are and how strong our bond is as a team," stated senior Molly Flanagan. "We had such a successful competitive season this year, and I'm so beyond proud of my team."
While the team did not qualify for the state competition, they are looking forward to growing together during sideline performances and are looking to accomplish new and bigger goals as they move into the next wave of competitions.
"I believe one of the main reasons we were so successful this season was because we truly made the most of every moment we were together, stated captain Layla Jessie. "If we have learned anything this past year it's that nothing is guaranteed so we have been grateful for every day we've had together as a team and made the best of the circumstances."
Total Views: 2556 ,